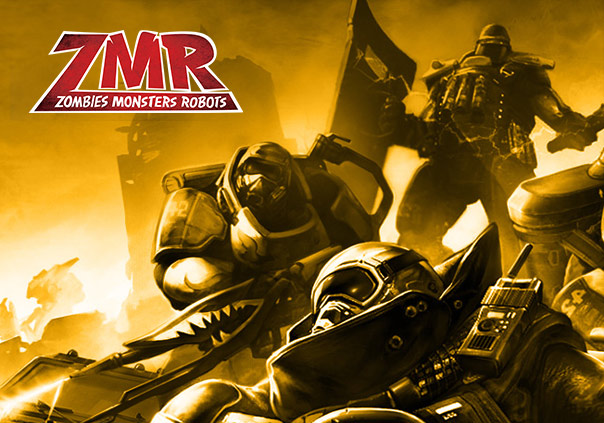 Zombies Monsters Robots (ZMR) is an online multiplayer third-person shooter developed by Yingpei Games and published by En Masse entertainment. Set in an alternate world where the invention of portal technology has lured cross-dimensional creatures to Earth and humanity finds itself under attack, ZMR pits gamers against a bevy of hostile foes.

Features:

Intense co-op & competitive modes: For both the casual and hardcore, there's something for everyone.

Expansive variety of maps & enemies: Tons of variety to break up repetition.

Unpredictable boss fights: Duel against creatures that will require you to switch tactics during every encounter.

Deep customization of guns & gear: Tweak your weapons and equipment with several different parts and stats until your heart's content.

Many, many enemies: From the undead, to cyborgs, to supernatural, to mutants, to rival corporations, to dinosaurs with freakin' lasers strapped to their backs, prepare yourself for anything to pop up in your sights.

Intense Game Modes: Fight with up to 16 players in campaign, competitive, and wave-based survival modes across a wide range of maps.

Freakish Boss Fights: Face truly monstrous bosses, each with their own unique strengths and weaknesses—and a burning desire to see you crawl.

Deep Customization of Guns and Gear: Upgrade your firepower with an arsenal of weapons, each of which includes up to 8 moddable slots, so you can tailor your mayhem however you like.

Immersive 3rd Person Action: Don't just stand there! Dynamic cover, blind fire, dodging, and active reload systems make firefights strategic and engaging.

Monthly Content Updates: ZMR's vast amount of content is just a taste of what's in store. Regular monthly updates with more enemies, weapons, maps, and modes—means that there's always new battles to fight!

Game modes (PvE/Co-op)

Assault: Assault mode supports up to five players, and pits players against several waves of interdimensional invaders that get progressively deadlier. The higher the difficulty, the more waves of Dominion forces you'll have to survive—and later waves will include increasingly tougher foes (including heavies, who will start showing up around round three). You win if you're still alive at the end of the final wave. (You don't have to kill every enemy in each wave—but you'll get a better score if you do.)

Each assault mode map features a sprinkling of useful gear, from ammo crates and grenades to heavy weapons…all of which help ensure that you can make it through the wave. (And, of course, downed enemies drop whatever weapon they were carrying.)

Massive Assault: Massive Assault is like Assault mode turned up to eleven. The maps are bigger and support as many as eight players, and just like Assault mode, Massive Assault consists of wave after wave of Dominion forces, starting with a small amount of cannon fodder and progressing up through hordes of heavies. You win in Massive Assault by surviving through the final round, and again, the map includes plenty of goodies scattered around to help keep you in the fight.

Assault-Ops: Assault Ops mode takes the fight against the Dominion up a notch, with a multi-area campaign featuring hordes of enemy troops and level mini-bosses, and culminating in a pitched battle with a final boss. Up to five players can group together to work their way through the enemy's defenses and accomplish a final objective.

Each area of the overall map is a separate battlefield, each with its own objectives and victory conditions—and you can't just turtle up and wait for the wave to end. You have to open a door, flip a switch, or maybe take down a boss to get into the next area—and it's all one, long mission. (You can't quit mid-map and come back later to pick up where you left off.)

As with other Assault modes, Assault Ops has plenty of ammo cases lying around to get you through—but additional weapons tend to be a bit sparse (usually only appearing during boss fights), so choose your loadout wisely.

Kill Every Thing: Kill Every Thing mode pits you against progressively more difficult waves of undead, including enemy soldiers and civilian plague victims. Unlike the military Dominion, though, zombies rarely use ranged attacks, and so there's simply no need for cover.

Another factor that sets Kill Every Thing apart is that there is no round timer. Instead, each wave consists of a specific number of enemies, and the round's not over until you clear them all out. And at Advanced and higher difficulty, each Kill Every Thing map also includes a final boss.

Much like the Assault modes, Kill Every Thing includes caches of weapons and ammo crates, but with this mode, you have to unlock them; each zombie you kill (and each broken window or door you repair) rewards you with points, which you can then use to pick up ammo crates and new guns, unlock new areas of the map, and also activate various trap triggers located at strategic points.

Kill Every Thing 2: As the name suggests, Kill Every Thing 2 builds on the standard Kill Every Thing mode by featuring waves of undead opponents, albeit on bigger maps. You can still unlock new areas, new weapons, ammo crates, and trap triggers, and you're still facing down increasingly tougher opponents in bigger and badder waves, with a final boss to tackle at the end of the final round on Advanced difficulty or higher.

The major difference is that Kill Every Thing 2 includes secondary wave objectives, such as killing a certain number of zombies with shotguns, or getting through the round with zero casualties. You get extra points for completing the secondary objective.

Paranormal-Ops: Paranormal-Ops is the zombie counterpart to Assault Ops: You work your way through a series of connected areas, overcoming various objectives on your way to the final boss. Unlike Assault-Ops, though, up to eight players can team up to tackle a Paranormal-Ops campaign!

Because Paranormal Ops is about battling the undead, the objectives tend to focus more on mini-bosses and less on opening doors and flipping switches. Sometimes you'll have the option to activate set-piece zombie traps, and you'll want to keep an eye out for those opportunities—along with ammo crates, which while plentiful are sometimes tucked in out-of-the-way places.

Status: Released
Release Date: Sep 19, 2014
Business Model: Free to Play
Developer: Yingpei Games
Publisher: En Masse Entertainment
Category:

Stand-alone

Genre(s):

3D, Shooter

Platforms:

PC


Pros:

+Fast paced, cover-based shooting mechanics, co-op and competitive game modes.

Cons:

-Fairly uninspired gameplay.



Recommended System Requirements:

OS: Windows 7, Windows 8 (64-bit)
CPU: Intel Core 2 Duo, Core 2 Quad, i7, or AMD equivalent
RAM: 2 GB
GPU: NVIDIA GeForce 9800GT, GT240, AMD Radeon 4800 or HD5600
HDD: 10 GB



Description: Set in an alternate world where the invention of portal technology has lured cross-dimensional creatures to Earth and humanity finds itself under attack, ZMR pits gamers against a bevy of hostile foes.
It's not often a well-known singer/songwriter takes to the world of computer games to debut his latest album.
by MissyS