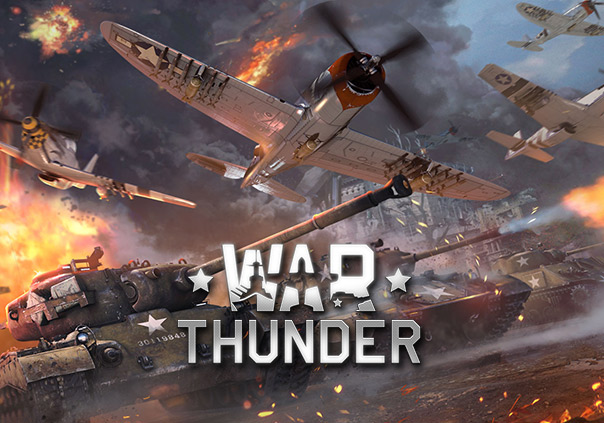 War Thunder is a free-to-play World War II combat simulation game developed by Gaijin Entertainment for PC, Mac, Linux, and PlayStation 4 that puts you in the cockpit of a warplane as you battle across historical dog fights from World War II. With a focus on a realistic experience, you'll fly alongside squadron members as you take down your opponents with skill. The skies aren't the only option here, though. Ground and sea missions also exist to ensure missions are varied and exciting for all involved, putting players in control of armored vehicles and naval craft!
War Thunder features planes, tanks, and ship battles set across various landscapes of World War II. The game offers you a variety of national vehicles to choose from, each with their own strengths and combat ability. The game's damage system is quite complex, wherein a simple machine gun can cause significant damage if targeting the right area of an opponent's plane. The instant action feature of War Thunder will ensure you get a quick experience, without having to wait for other players to join your game or create their own.
See just how great you can become and find out just how intense combat was during World War II. Experience a game with rich PvE content, regular updates, gorgeous graphics, and a whole lot of action in War Thunder!
Expansion Packs:
Steam Pack – Includes premium airplanes, two single-player campaigns, one month of Premium account upgrades, and 1700 Golden Eagles!
US Combined Forces – Includes the George Bostwick's P-47M-1-RE (Rank 4 USA), the M18 'Black Cat' (Rank 3 USA), and 1000 Golden Eagles.
Royal Combined Forces – Includes the Westland Wyvern (Rank 4 Great Britain), the Sherman Firefly Ic (Rank 3 Great Britain), and 1000 Golden Eagles.
Kliment Voroshilov Pack – Includes the KV-1E (Rank 2 USSR), the KV-2 ZIS 6 (Rank 3 USSR), and 1000 Golden Eagles.
Status: Released
Release Date: Dec 21, 2016
Business Model: Free to Play
Developer: Gaijin Entertainment
Publisher: Gaijin Entertainment
Category: Stand-alone
Genre(s): 3D, Shooter
Platforms: PC, Mac, Linux, Steam, PS4, Android

Editor's Score: 4/5

Pros:

+Attention to detail in every plane.
+Realistic combat by sky, land, and sea.
+Varied modes of gameplay.

Cons:

-Can be bit of a harsh learning curve.
-Might want a joystick or gamepad.
-Targets often don't stand out.



Recommended System Requirements:

OS: Windows 7/8/10 or OSX 10.12 Sierra or Ubuntu 14.04 (64-bit)
CPU: Intel Core i5
RAM: 8 GB
GPU: NVIDIA GeForce GTX 650 or higher, AMD Radeon series 77XX or higher (DirectX 11 level video card and drivers)
HDD: 17 GB