War Thunder Announces Pending Release of Japanese Navy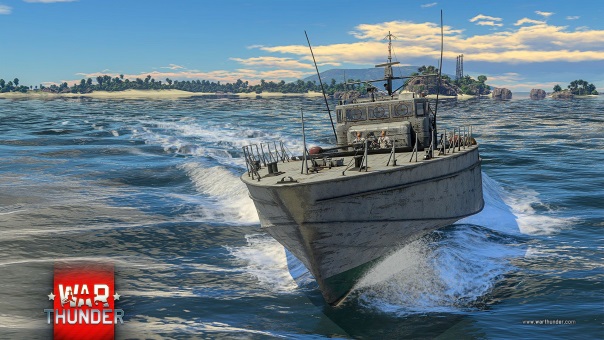 Gaijin Entertainment announced today that War Thunder will be unleashing the might of the Japanese Navy as the fifth Naval Forces tree. The Beta-testing of the first Japanese ships starts at the end of May, with the release of the next major Content Update, War Thunder 1.89. This initial group of will feature more than 20 ships, from torpedo and gunboats, all the way up to mighty destroyers and cruisers. They also point out that many of these were active during World War II's biggest battles. After the 1.89 updates, all players will be able to access the beta testing of Japanese ships, through tasks in War Thunder. Players can also purchase one of the pre-order bundles, containing a premium Japanese ship, premium currency, and several days premium time ( as well as a unique player title/vehicle decal). One pre-order pack will include the modern patrol boat PG-02 (Rank II), while the other will include the World War II destroyer Kiyoshimo (Rank III).
This includes the light cruiser Agana, which evacuated Japanese forces from Guadalcanal, and the destroyer Yugumo, which escorted Admiral Nagumo's strike force against Midway and was sunk during the battles around the Solomon Islands. While the majority of the ships belong to the Imperial Japanese Navy, the game will also see the addition of modern ships of the post-war Japanese Self-Defense Marine Forces, including the PT-15, which was the last torpedo boat to serve in the Japanese Navy.
The oxygen-propelled Type 93 torpedoes, which were used by Japanese destroyers and cruisers of World War II, were the most advanced torpedoes of their time and featured excellent hitting power, range and speed. After the war, they were referred to by most historians as the Japanese "Long Lance". All players of War Thunder will be able to get their history lesson on that subject very soon, as – true to War Thunder's realistic approach – both the design and capabilities of the Japanese Navy were recreated as authentically as possible. The Yugumo, for example, is equipped with eight torpedo tubes in two traversable quad-turrets mounted at the center of the ship, allowing the player to launch these devastating weapons to both sides. If that weren't enough, this update will offer the first heavy cruisers added to the game. More info will be provided on that soon.
Next Article
Wargaming has announced that World of Tanks Update 8.2 is currently live in Europe, and will launch in North America on Thursday, December 13.
by MissyS
Improving on the available mecha options from the original game, Cosmic League makes the jump from four class types to six.
by Mikedot