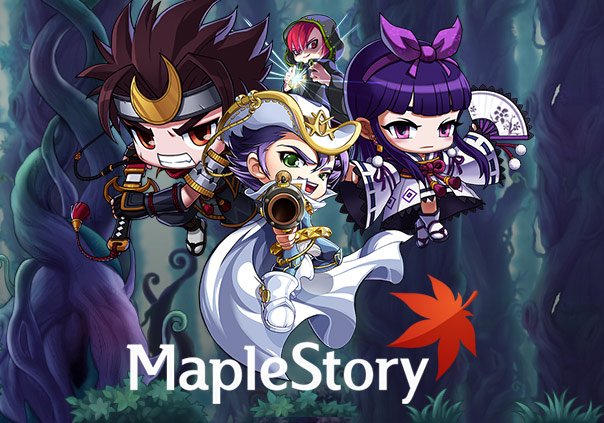 With over 100 million accounts created, Maplestory is probably the most played free-to-play MMORPG of all time. Maplestory is a 2D side-scrolling, fantasy MMORPG with a massive amount of features and things to do. Eons ago, six brave heroes defied the Black Mage and stopped his conquest of Maple World, sealing him away for millennia. Now the fiend has awoken, and a new breed of hero must take up the call.
One thing Maplestory doesn't lack is customization! Every class players can choose has its own distinct personality and set of abilities. Skills can be specialized for your particular playstyle through skill trees and your appearance can be formed with countless cosmetic items. Choose from a massive selection of gloves, cloaks, hats and more to create the look you want your character to have. The odds of two Maplers ever being completely alike are slim at best!
Speaking of other Maplers, if you're looking to experience more social aspects of the game you should consider starting a guild or joining one. Make new friends that you can join forces with and take on your adventures. Exploring such a deep world is always more fun with friends by your side!
Although the game is now over eight years old, the game continues on strong with regular updates and patches, and has significantly upgraded the game engine and graphics since its early days. If you can handle MapleStory's child-like, cartoony graphics, this game has a ton to offer.
Classes:
Magicians: Magician, Battle Mage, Beast Tamer, Blaze Wizard, Evan, Kanna, Luminous, Kinesis, Illium
Thieves: Thief, Dual Blade, Nightwalker, Phantom, Xenon, Cadena
Warriors: Warrior, Aran, Dawn Warrior, Demon Avenger, Demon Slayer, Hayato, Kaiser, Mihile, Warrior, Zero, Blaster
Bowmen: Bowman, Wild Hunter, Wind Archer, Mercedes
Pirates: Pirate, Angelic Buster, Cannoneer, Jett, Mechanic, Shade, Thunder Breaker

Status: Released
Release Date: May 11, 2005
Business Model: Free to Play
Developer: Wizet
Publisher: Nexon
Category: Stand-alone
Genre(s): 2D, MMO, Adventure, RPG, Fantasy, Casual
Platforms: PC, Steam

Editor's Score: 3/5

Pros:

+Plenty of job advancements.
+Unique platforming quests.
+Huge game world with tons of quests.

Cons:

-Repetitive gameplay.
-Cash shop advantage.
-Poor customer support.



Recommended System Requirements:

OS: Windows 7 or later
CPU: Intel Core Duo 3.0Ghz / AMD Athlon 64 X2 3.0Ghz
RAM: 4 GB
GPU: GeForce 9600 / ATI Radeon HD 3870 or higher
HDD: 14 GB