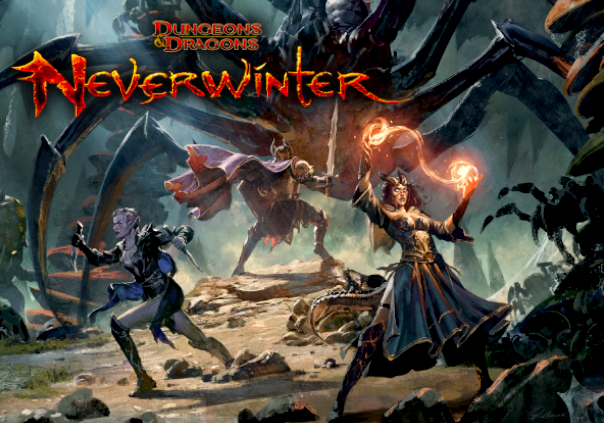 Neverwinter is a free-to-play, action MMORPG based on the acclaimed Dungeons & Dragons fantasy roleplaying game.
Story
One hundred years have passed since the Spellplague forever changed the magical and mysterious lands of Faerûn. Mighty empires fell and great cities toppled, leaving only monster-haunted ruins and survivors struggling to rebuild. The city of Neverwinter, the Jewel of the North, seemed blessed by the gods. While the rest of the Sword Coast was devastated by the event, Neverwinter survived largely intact. But this was only a temporary reprieve from its inevitable doom. Nearly 75 years later, a volcanic eruption rained fire, ash and molten fury upon the city, annihilating everything in its wake. Today, Neverwinter has restored much of its former glory.
Lord Neverember of Waterdeep has taken the city under his protection and put forth a call to all adventurers and heroes of the Savage North to help rebuild Neverwinter in the hopes that one day he can lay claim to her throne and crown. But evil forces conspire in the dark places of the world, seeking to undermine all…
Features
►Travel through the familiar and beloved Forgotten Realms setting.
►Foundry lets players create their own content and tell their own stories.
Races
Human, Half-Elf, Wood Elf, Drow, Dwarf, Halfling, Half-Orc, Tiefling, Moon Elf, Sun Elf, Menzoberranzan Renegade, Dragonborn
Classes
Control Wizard, Devoted Cleric, Great Weapon Fighter, Guardian Fighter, Hunter Ranger, Oathbound Paladin, Scourge Warlock, Trickster Rogue.
Expansions
Neverwinter has received a wide variety of expansions, each offering new content, gear, and/or story. Over 12 updates have been launched for Neverwinter, such as Underdark and Ravenloft. See a full list, as well as the features that each came with, here.
Microtransactions
Top tier gear, mounts, companions, cosmetics and other items available via purchase. In game currency available by trading Astral Diamonds on market.
Status: Released
Release Date: Jun 20, 2013
Business Model: Free to Play
Developer: Cryptic Studios
Publisher: Gearbox Publishing
Category:

Stand-alone

Genre(s):

3D, MMO, Adventure, RPG, Fantasy

Platforms:

PC, Steam, Xbox One, PS4


Editor's Score: 4/5

Pros:

+Players can create their own Neverwinter content.
+Action MMORPG style combat system.
+Soft targeting system.

Cons:

-Simplified gameplay.
-Cash shop purchases place damper on free gameplay.
-Struggles with bugs and exploits.



Recommended System Requirements:

OS: Windows 7 / 8 / 10
CPU: Core i5-2xxx Quad Core or better
RAM: 4 GB
GPU: NVidia GeForce GTX 4xx, ATI/AMD Radeon HD 5xxx, or Intel HD Graphics 4xxx (Direct3D Hardware Feature Level 11.0) or better
HDD: 23 GB



Description: Neverwinter is a free-to-play, action MMORPG based on the acclaimed Dungeons & Dragons fantasy roleplaying game.
Webzen has announced the start of the registration for the first C9 (Continent of the Ninth) Global PvP Tournament.
by MissyS
Valentine's events will continue into March for Knight Age players.
by MissyS