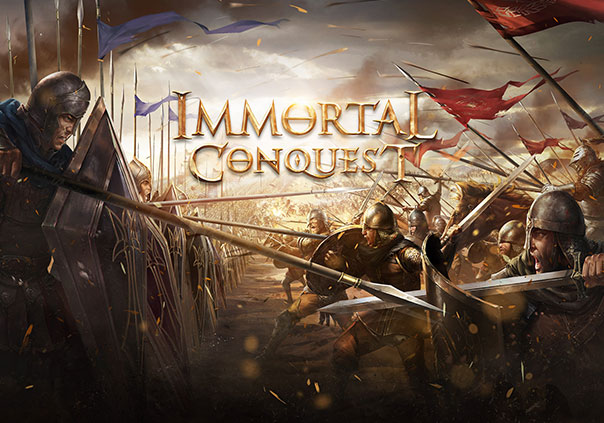 Immortal Conquest is a free-to-play mobile strategy game developed by NetEase Games for iOS and Android devices. In Immortal Conquest players will be able to manage their own cities, expand, and forge alliances with other players from around the world in an effort to acquire more of the limited land resources on a huge game map. Players will have to race against each other across the real-time map to expand their control throughout the limited 2 million pieces of available land. Alliances will enable players to gather resources more quickly, occupy new lands faster, and fight against other players and alliances as effectively as possible. It won't be the strongest player who comes out on top in Immortal Conquest, but the strongest Alliance.
Players must work together and against one another to raise the largest army that they can manage, including hero cards that will give them access to heroes with impressive abilities to help them lead their armies. By using hero cards in different combinations players can utilize different synergies to help them complete unique objectives and acquire higher-level territories.
Immortal Conquest has a seasonal timeline, meaning that the game will change objectives each season. Alliances will need to work together to complete a season's objectives in order to receive the rewards for that specific season and be declared as one of the season's few victors! At the end of a season the global map will completely refresh it's territories, giving players the chance to battle for global domination once again right from the very beginning.
Enjoy strategic depth, resource management, and a team-oriented atmosphere in Immortal Conquest. Occupy lands and completely take over with your friends to become the most powerful Alliance throughout the world – at least until next season!
Status: Released
Release Date: Jan 11, 2017
Business Model: Free to Play
Developer: NetEase Games
Publisher: NetEase Games
Category:

Mobile

Genre(s):

3D, Fantasy, Strategy

Platforms:

iOS, Android


Editor's Score: 3/5


System Requirements not yet known.


Description: Immortal Conquest is a free-to-play mobile strategy game where players can build and manage their own cities across a huge map. Will you be able to create an empire, or will you struggle to get by on the leftovers of other players?
an-favorite Star Ocean characters Fayt and Rena first appeared in the Japanese version of Final Fantasy Brave Exvius.
by Ragachak
Nexon 2015 Q1 Financial Report Now Available - Learn all about Nexon's ups and downs this first year
by Mikedot
A major software update to the Razer Phone 2 to Android 9.0 Pie was announced, as was a price change.
by Ragachak