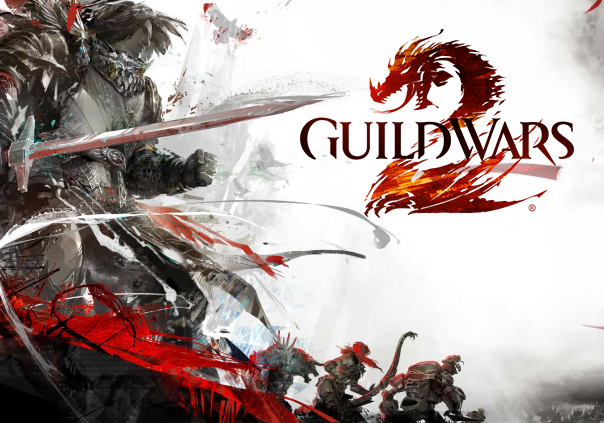 Guild Wars 2 is a MMORPG by NCsoft, the much awaited new title in the Guild Wars series. In this new iteration, you can expect to find much of what you loved in the first game, but also an open world filled with niches and hidden spots, a world vs world mode that enables 3 servers to compete simultaneously over four different maps, an entirely new crafting system, and more. With five playable races(including the charr from the first game), eight different classes and a gigantic amount of content to explore, players will find that there is more than enough to keep them busy for a very long time. Barring some minor flaws, Guild Wars 2 brings you the features you'd expect with grace and style, and even manages a steady amount of innovation. The lack of subscription fee is only the cherry on the cake. Most classes you know and love are back, with some additions:
Elementalist: The elementalist class has access to a huge skill set of elemental themed spells, and has the ability to switching from one element attunement to the other on the go, effectively changing their entire skill set (and role) on the fly. They can be excellent damage dealers and support characters.
Engineer: The technology oriented class, the engineer specializes on having the right tool for every situation. In addition to having a variety of engineer-specific weapon kits (flamethrower, grenades, etc), the engineer benefits from an auxiliary skill bar that changes depending on what utility skills they have equipped.
Guardian: A defensive plate-wearing juggernaut, the guardian has a variety of group-oriented skills called Virtues, which are essentially a special set of group buffs. They also have access to temporary spirit weapon pets, and shouts to bolster their group or demoralize their enemies.
Mesmer: Illusionists and tricksters, the mesmer play style relies on tricks, teleportation and boons/conditions. They have access to the illusion mechanic – temporary pets that can be sacrificed for a variety of different effects.
Necromancer: Strongly oriented on pet control and conditions, necromancers can literally have a small undead warband of their own. They can also turn into a spectre by killing enough foes, unlocking an entirely new skill bar for a short moment, and giving them unexpected durability.
Ranger: Benefitting from a single-pet system, the ranger has a huge selection of potential land and sea pets (that must first be captured!). They can also use a variety of traps, summon spirits, and tend to be equally good at range and up close.
Thief: Fast and agile, the thief is oriented on leaping around the field, jumping in and out of stealth while landing some solid damage. Their class mechanic is Steal, which allows them to acquire an extra ability depending on who, or what they steal from.
Warrior: Plate-clad weapon masters, the warrior can be anything from a close combat dual wielding berserker, to a long range rifleman, giving them a huge amount of versatility (up to 19 weapon combinations). Their special adrenaline ability is a special super-skill that changes depending on their current weapon. They also have access to combat stances, and banners for group support.
Revenant: Channel legendary powers to slaughter foes and unleash chaos on the battlefield with our brand new profession: the revenant. Enter the field of battle heavily armored and equipped with the otherworldly powers of the Mists.
Expansions:
Guild Wars 2 – Heart of Thorns Expansion
Guild Wars 2: Heart of Thorns is the first expansion for Guild Wars 2. Founded on the idea that the journey is the goal, the Heart of Thorns expansion continues the Guild Wars 2 tradition of challenging the conventions of MMOs to fulfill the promise of what online worlds should be.
Guild Wars 2 – Path of Fire Expansion
Guild Wars 2: Path of Fire is the second expansion for Guild Wars 2. As the balance of magic comes undone, players can lead their allies in the hunt for the rogue god Balthazar, whose scorched-earth campaign threatens the very existence of Tyria. This expansion includes mounts and elite specializations for characters.
Features:
The Mastery System: We're reimagining progression with our new Mastery system. Explore new training opportunities for your character beyond level 80 and master abilities like hang gliding in the jungle, tearing the bark off of heavily armored Mordrem, or building new collections that earn precursors to a legendary weapon.
The Heart of Maguuma: New adventures await you in the heart of the Maguuma Jungle. Confront the growing hordes of Mordremoth's minions, discover allies from ancient civilizations, and battle new enemies.
-Tackle challenging group content.
-Explore new open world jungle maps.
-Experience new events and storylines.
-Test your mettle in new boss battles.
Specializations: Evolve your gameplay. With profession specializations, you'll unlock access to a weapon previously unavailable to your profession as well as new traits, skills, and unique mechanics – all of which will transform your profession into something new.
New Profession: Revenant: Channel legendary powers to slaughter foes and unleash chaos on the battlefield with our brand new profession: the revenant. Enter the field of battle heavily armored and equipped with the otherworldly powers of the Mists.
Guild Halls: Your guild has roamed the world together. Now, it's time to claim a piece of it. Work with fellow guild members to claim and grow your own guild hall in the heart of Maguuma.
New Stronghold Game Mode (PvP): Gather supply to hire soldiers. Battle for control of heroes. Man the trebuchet to defend your stronghold, and storm the enemy gates to defeat the guild lord! Use our new guild team feature to team up and battle to the top of the leaderboards. Stronghold offers an entirely new way to play competitive PvP in Guild Wars 2!
New Borderland (WvW): Experience epic battlefield combat like never before in World vs. World's latest core addition, the new Borderlands map. Navigate treacherous heights with traps that blow your foes to the depths below and ferocious defenders to help keep the enemy at bay. Map objectives will be more important than ever before, as they'll unlock new strategies, tactics, and play mechanics that you'll want to use to your world's advantage!
Status: Released
Release Date: Aug 28, 2012
Business Model: Free to Play
Developer: ArenaNet
Publisher: NCsoft
Category:

Stand-alone

Genre(s):

3D, MMO, Adventure, RPG, Fantasy

Platforms:

PC, Mac


Editor's Score: 3.5/5

Pros:

+Amazing world and storyline.
+Gameplay changes per class based on race and weapon.
+Great, colorful graphics and art direction.

Cons:

-Living story locked by cash shop.
-Limited end-game content.



Recommended System Requirements:

OS: Windows 7 / 8 / 10 (64-bit), Mac OSX 10.7+
CPU: Intel Core 2 Quad Q6400 2.13GHz, AMD Phenom 9650 Quad-Core, or better.
RAM: 4GB
GPU: AMD Radeon HD 5670 w/ 1GB VRAM or better.
HDD: 25GB



Additional Information:
Description: Guild Wars 2 puts five races against the armies of Zhaitan, a deathless dragon who commands vast undead armies. With eight classes to choose from, players can spend quite a bit of time customizing their chosen role to how they want to play.
He tows the "company line" in that he's probably as complicated as his compatriot, The Morrigan.
by Ragachak
The fantasy themed 3D MMORPG brawler Divine Souls will enter open beta testing on December 14, 2010. Divine Souls is published by Outspark.
by Guest