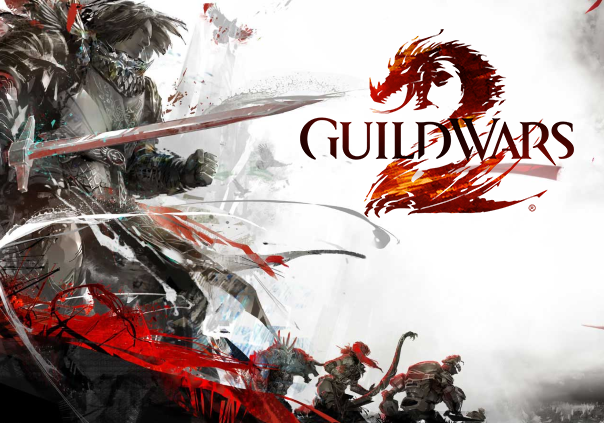 Guild Wars 2 is a high fantasy MMORPG featuring exciting fast-paced combat and effortless player cooperation.
Story
Zhaitan, and ancient undead Elder Dragon of terrifying power poses the ultimate threat to Tyria and its inhabitants. All that stands in his way is the Desiny's Edge, a multiracial group that will stop at nothing to hold the peace – that is, if they don't disband before then. Unite the splintered faction and ensure the future of all living things.
Features
►Out for Adventure: Explore a visually stunning world and complete the many challenges lying in wait.
►Opportunity Aplenty: Jump in and out of local or global events as you see fit.
►More the Merrier: It doesn't matter if they're your friends or complete strangers, everyone that participates in kills or objectives gets a generous piece of the pie.
►New Birth: Create and customize your avatar from their race and visual identity, to how they play and interact with their environment.
►Personal Narrative: Every character has an engaging and immersive story to explore and complete.
►Action Orientated: Constantly stay on the move dealing damage and dodging incoming attacks.
►Mat Cycler: Mine or collect resources for the use in crafting a large collection of items.
►Raid Run: Team up with a few friends to tackle difficult dungeons for great rewards.
►For Fame and Fortune: Multiple PVP game modes keep your competitive options open as you can participate in small objective-based battlegrounds, team deathmatch, or the enormous World v World v World server.
►Status Symbol: Put forth all of your combined effort for the opportunity to craft a legendary weapon.
Races
Asura: Small, yet intelligent scientists endlessly chasing knowledge and innovation.
Sylvari: Living plant beings all connected through the Dream.
Human: Scattered, diverse, and fiercely resilient.
Norn: Towering hunters from the blistering cold of the North.
Charr: Boisterous soldiers from a rigid military caste.
Classes
Elementalist: Take control of the elements themselves to sling spells and utilize the ability to switch from one element attunement to the another on the go, effectively changing your entire skill set on the fly.
Engineer: A technology expert ready for any situation with their collection of gadgets.
Guardian: A defensive plate-wearing juggernaut capable of bestowing group-wide buffs.
Mesmer: Illusionists and tricksters relying on tricks, teleportation and boons/conditions to control the pace of combat.
Necromancer: Master of the dead taking down threats big and small with an army of servants and effective damage over time.
Ranger: Capture one of the many pets and train it to be your trusty companion.
Thief: Seamlessly dash into engagements dealing devastating amounts of damage and then disappearing before anything can land a hit.
Warrior: Massacre the opposition by building up adrenaline from dishing out and receiving pain.
Revenant: Channel legendary figures from Tyrian history to single-handily turn the tide of battle.
Expansions
Heart of Thorns: Head to the dense and deadly jungle to discover all new maps, challenges, and specializations.
Path of Fire: As the balance of magic comes undone, you will lead your allies in the hunt for the rogue god Balthazar, whose scorched-earth campaign threatens the very existence of Tyria.
End of Dragons: Explore the beautiful lands of Cantha and discover new ways to play with your friends, customize your characters, and challenge your skills.
Microtransactions
This is a free-to-play title with the option to spend money on new content as well as various in-game items.
Status: Released
Release Date: Aug 28, 2012
Business Model: Free to Play
Developer: ArenaNet
Publisher: NCSOFT
Category:

Stand-alone

Genre(s):

3D, MMO, Adventure, RPG, Fantasy

Platforms:

PC, Mac


Editor's Score: 3.5/5

Pros:

+Amazing world and storyline.
+Gameplay changes per class based on race and weapon.
+Great, colorful graphics and art direction.

Cons:

-Living story locked by cash shop.
-Limited end-game content.



Recommended System Requirements:

OS: Windows 7+ 64-bit/Mac OSX 10.9+
CPU: Intel Core 2 Quad 2.4 GHz/Core i3/AMD Athlon 64 X2+
RAM: 4GB
GPU: NVIDIA GeForce 8800GTS/ATI Radeon HD 2900 XT/Intel Iris 5100/NVIDIA GeForce 320MATI Radeon HD 6630M/Intel HD 3000
HDD: 50GB



Description: Guild Wars 2 is a high fantasy MMORPG featuring exciting fast-paced combat and effortless player cooperation.
Redbana refreshes the experience of playing AIKA Online this August with the upcoming patch update: Zereca's Plot: Land of Wailing.
by MissyS
A powerful new character comes to Vindictus today, in the form of The Last Draker, Miri.
by Ragachak
As you probably are aware the Gloria Victis team has been busy laying the framework of game mechanics in the past few months since the Pre-Alp...
by MissyS