TERA's 'BAF Masters' Update and Wintera Events Have Launched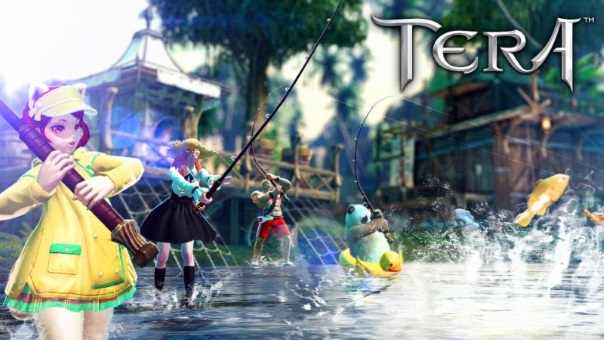 TERA's latest update for PC arrives today, and with it comes BAF (Big-Ass Fish): It's time for BAF Masters. Players can now go fishing in the lakes, rivers and oceans of Arborea to try and catch some fish. This fishing gathering system also comes alongside a broader overhaul of crafting and gathering as a whole. This includes a new cooking profession. Fish that are caught can be cooked to increase stats, trade into vendors for enchanting materials, or can simply be sold for a profit. These fish don't last forever though – after 48 hours, any fish caught will spoil and be useless.
Today's update also kicks the seasonal Wintera events into high gear with the addition of more activities to help players keep warm during this chilly time of year. Players will hunt down Tiny Santa's, who each have a chance to drop seasonal items and gear upgrade materials. The more jovial and deadly Fat Santa's however, also have a new loot table, offering a wide array of drops. This includes the Frosty Snowman Footsteps cosmetic. The Fat Santa lootable will change each week throughout December. Other events include the Golden Gift Box gifting event, the return of the updated holiday themed Wintera Snowfield BG through January, and a Holiday Special Event later this month.
SG North announces Cross Fire's first eSports tournament of 2014.
by MissyS
Netker announced today that Versus: Battle of the Gladiator, a multiplayer melee combat game, will launch officially on Steam on August 26.
by MissyS
Netmarble, the number one mobile games publisher in South Korea, announced today an investment of $130 million to SGN.
by MissyS