*Note: This game has been cancelled or shut down and isn't available for play.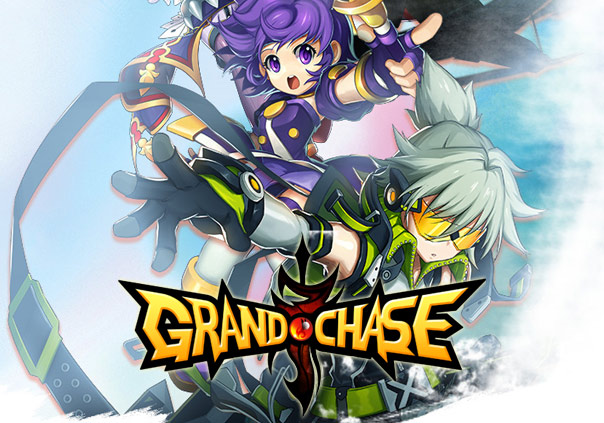 Grand Chase is one of the few free MMOs that emphasizes old school co-op gameplay and competitive PvP. Rather than a single persistent game world, Grand Chase has a continental map that acts as a sort of lobby where players can either join or host rooms. Grand Chase lets players to freely switch between characters that they have unlocked, each earns its own experience and equipment as they're played. Most characters have a total of four job advancements though they are not yet released in the North American version of the game. Currently, 19 characters are available in the North American release:
Characters:
Elesis –Fiery swordmaster and eldest child of the Sieghart family. Her temper and endurance set her apart from other characters.
Lire – A peace loving elven representative with excellent mastery of the bow.

Arme- A talented Purple Mage, packing one of the largest spell repertoires of any character. She can teleport instead of dashing.

Rin- The reincarnation of a goddess who sacrificed herself to save her people. She utilizes a glyph system apart from her mana pool to unleash more powerful skills.

Edel- A nobel swordswoman from a realm dominated by magic. She learns to utilize both her rapier to tear down foes up close and a flintlock pistol to even the playing field with mages.

Veigas- More of a demon than a typical Chase member. He utilizes the magic of a strange cube to unleash unabridged destructive power.

Lass- A half breed mixed between demon and human, he seeks vengeance after being used by the forces of darkness. His power set as a result focuses on short blades and assassination skills.

Ryan- An elven werewolf, he utilizes the magic of the druids and a powerfully aggressive wolf transformation to keep pressure on his foes.

Ronan- A spellsword packing a wide variety of weapons infused with spells. He was also used by the forces of darkness and seeks to prevent a greater misfortune.

Amy- A bit of a medieval popstar, Amy abandoned the gods she served as muse for when they were corrupted to darkness. Mixing dancing with fighting and performance arts, she serves as a well rounded wicked fighter with plenty of supportive abilities.

Jin- A ferocious hand-to-hand fighter. He builds up chi from combat to unleash more powerful attacks.

Sieghart- A master swordsman locked away by powerful demon magic, he has revived as an immortal and packs an ability system akin to Jin.

Mari- An amnesia stricken rune caster, Mari is highly mobile and unleashes odd and unusual magic attacks to keep her foes guessing.

Dio- A demon with a sense of justice. He follows a progression system more similar to Elsword characters, incorporating new powers into his existing strengths as he advances in class.

Zero- An artificially created Ancient Demon, he utilizes his possessed Grandark sword to acquire increased defense and unleash wanton destruction on any foe foolish enough to step into his range.

Ley- A moderate demon noble woman, she enjoys spectating fights though believes head to head combat is beneath her. She specializes in summoning creatures to fight on her behalf.

Rufus- A demonic bounty hunter with daddy issues. He has mastered a variety of guns and blades in his quest to become the world's greatest hunter.

Asin- An armguard specialist, he is inspired by Jin's martial strength but, lacking that level of power, utilizes sneakier tactics to achieve similar success.

Lime- A massive hammer wielding crusader, Lime sacrifices speed for raw power and helpful auras that inspire her allies.
Status: Shut Down
Business Model: Free to Play
Developer: KOG
Publisher: KOG
Category:

Stand-alone

Genre(s):

2D, MMO, Fighting

Platforms:

PC


Editor's Score: 4/5

Pros:

+High focus on story and character progression.
+Multiple stances and class upgrades offer huge diversity.
+Heavily skill-based.

Cons:

-UI can be clunky and confusing for new players.
-Some skill diversity limited by cash shop keys.
-No autoqueue system for dungeons and PvP.



Recommended System Requirements:

OS: Windows XP+
CPU: IPentium4 2.8 GHz
RAM: 1 GB
GPU: Nvidia GeForce6600 / ATI Radeon9800
HDD: 10 GB



Description: Grand Chase is a 2D side-scrolling action MMO with co-op and versus gameplay modes. Play through dozens of instanced stages on three different continents with up to four players on a team or battle it out in PvP mode.
The December 2010 patch for Atlantica Online adds a new dungeon and upgrades the Tactical Battle System. Atlantica Online is a f2p MMORPG publ...
by Guest
World of Tanks 360 Version: Siberian Wolf Pack Update Available - From the frozen Russian tundra and onto console
by Mikedot
Patch 3.35 introduces the Deep Dungeon: The Palace of the Dead, where newcomers and veterans can band together for an unprecedented adventure
by MissyS