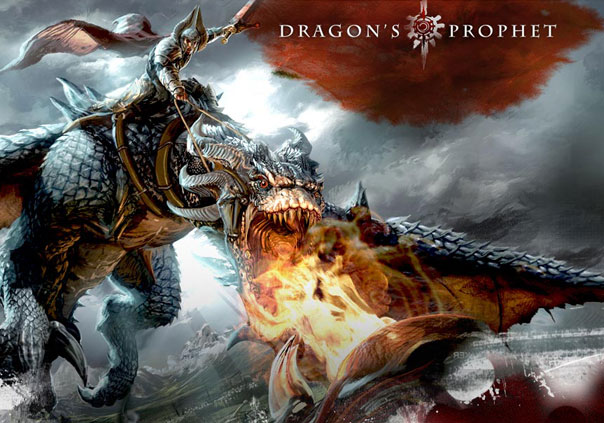 Savage Hunt – Dragon's Prophet
From the creators of Runes of Magic, Dragon's Prophet is a free to play fantasy MMO that transports you to Auratia, a realm where dragons fill the sky. For the first time ever, you have the ability to capture, train and ride your very own dragons!
Dragon's Prophet is a free-to-play MMO that's entirely dragon-based. Developed by the same creators of Runes of Magic players enter the majestic world of Auratia to battle, capture, train, ride, and fight alongside dragons. There are over 300 unique type of dragons each capable of different skills, powers, and special abilities. Complete challenging quests, clear treacherous monster inhabited instances with friends, and join a guild to participate in large-scale territorial wars. Players must use skill mastery and their chosen dragon companion strategically for an advantage in the game's action-oriented combat. Build a homestead or even establish a kingdom to rule in this fun fantasy adventure from Sony Online Entertainment.
Features:
Dragons Everywhere – In a world shaped by dragon-kind, more than 300 unique dragons roam the lands. Fight, capture, train and ride them in order to unlock their unique skills and abilities.
Action-Based Combat System – Dragon's Prophet uses a unique auto-target and combo system to give players more realistic battle action gameplay. This system gives players a higher degree of control with a wider range of tactical options than traditional MMOs.
Beautiful Immersive World – Players are transported to the breathtaking world of Auratia, which is filled with amazingly detailed landscapes. Mysteries, challenges and monsters await as players fight for their survival and that of the entire realm.
Extensive Housing System – Let your imagination and expectations run wild. Players have complete control to construct epic structures that defy imagination. Let the decorating begin!
Frontier System – Guild leaders rejoice! With this large-scale construction system, players have the ability to build their ultimate kingdom. By empowering your citizens and constructing a powerful military, true leaders will be able to create and sustain their very own empire!
Unique Player Classes – You can choose from four unique player classes to begin your journey into Auratia. Whether you like getting in close, popping an arrow into a dragon's eye or blasting a group of goblins with ranged DPS, there is something for you!
Your Dragon Destiny – The dragons you choose to capture shape your character and, ultimately, your fate. Will you be a legendary tank or a famous healer? Do you lead the charge or let your dragons bear the brunt of the fighting? Training the right dragons is the difference between life and death!
Revolutionary MMO Meets Free to Play – Enter the world of Auratia for free and immerse yourself in the world where Dragons abound. Obtain loot through gameplay or enter the marketplace to make purchases via Station Cash™ SOE's virtual currency. How you play or whether pay is up to you.
Classes:
Guardians – Skilled swordsman that are heavily armored. They often use their sheer strength to defeat opponents with little resistance. Guardians function as tanks with melee combat maneuvers and two-handed swords as weapons.
Rangers – As exceptional marksman they utilize their speed and ranged weapons to attack from a safe distance. Gun blades and bows are weapons of choice for rangers.
Oracles – Considered somewhat as spiritual or draconic followers they manipulate the forces of nature to eliminate foes. Oracles wield a large scythe.
Sorcerers – Masters of the elements and draconic disciplines this class is capable of powerful spells. Summon mighty winds, freeze monsters, or even ignite enemies by conjuring up firestorms. Sorcerers are equipped with wands and staves as weapons.
Status: Released
Business Model: Free to Play
Developer: Runewaker Entertainment
Publisher: gamigo
Category:

Stand-alone

Genre(s):

3D, MMO, RPG, Fantasy

Platforms:

PC


Editor's Score: 4/5

Pros:

+Great graphics.
+Fast action-based combat.
+Wide variety of dragons and monsters to battle.

Cons:

-Lots of grinding.
-No auto-walk feature.
-Very limited inventory space.



Recommended System Requirements:

OS: Windows Vista / 7
CPU: i5 2400 or higher
RAM: 4 GB
GPU: Nvidia 560 TI or higher
HDD: 10 GB



Description: Dragon's Prophet is a 3D fantasy MMORPG that transports players into the mysterious world of Auratia. Become an honorary knight fighting a dangerous territorial war involving mankind, dragons, and dark magic.
Block Shooter revealed a new update today, that is now available worldwide with quite a few new features.
by Ragachak
Chaos Heroes Online, the fast-paced, action-packed multiplayer online battle arena (MOBA) game from Aeria Games, is now available on Steam!
by MissyS
Nexon and VALOFE revealed today that Riders of Icarus, Nexon's MMORPG will be transferring service to VALOFE.
by Ragachak