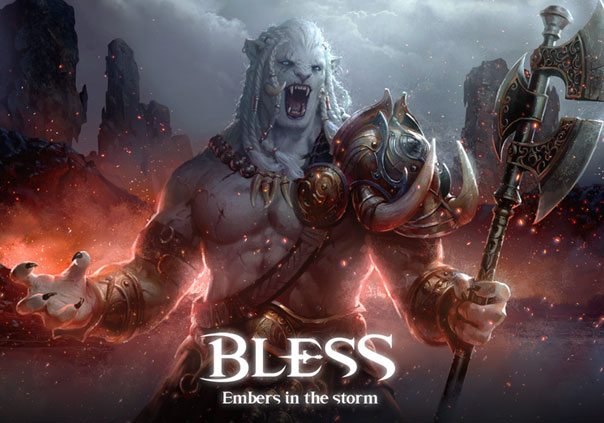 Bless is an ambitious, story-driven fantasy massively multiplayer online role-playing game, at this year's G-Star trade show. Built using Unreal Engine 3 in partnership with Epic Games Korea, BLESS boasts the latest in cutting-edge graphics and redefines what online games can look like. Bless is truly Neowiz's attempt to push the unreal 3 engine to the absolute limits of online play with photorealistic graphics, action oriented combat, and an enthralling storyline steeped in lore and combined with phasing technology to allow players to create their own unique story.
A Spectacular, Photo-Realistic, Seamless Fantasy World
Created by a team of more than 150 world-renowned game developers and designers, the vast and incredibly detailed world of BLESS is painstakingly brought to life by pushing the boundaries of what's possible through the award-winning Unreal Engine 3 graphics technology. Soak in the sights and completely immerse yourself in this living, breathing world full of rich lore and history.
A Deeply Personal Immersive Storytelling Experience
Through cinematic storytelling techniques, a detailed historical backdrop and deeply involved characters, BLESS strives to completely reinvent how stories are told in a MMORPG by making it a more profound, emotional experience. Each of the 10 races has its own personal story where decisions you make in the game ultimately affect how the world reacts around you.
Engaging End-Game Content
Whether it's realm-vs-realm, PvP, epic raids, or high level missions, there will never be a shortage of things to do in BLESS. Simply collecting items is not enough. When you reach max level, your characters will continue to develop through end-game content that are all intricately tied together, and the world around you will react differently based on your status, accomplishments and prestige.

Status: Released
Release Date: Oct 23, 2018
Business Model: Free to Play
Developer: Neowiz Games
Publisher: Neowiz Games
Category:

Stand-alone

Genre(s):

3D, MMO, RPG, Fantasy

Platforms:

PC, Steam


Pros:

+Highly customizable skill system.
+Beautiful graphics.

Cons:

-Confusing targeting system.
-Uninspiring quests.



System Requirements not yet known.


Description: Influenced by medieval fantasy themes, the vast universe of "BLESS" houses 10 different races, each with its own extensive history and territory. These races are divided into two opposing realms that enter into a fierce war in the name of religion and philosophy.
This game can quickly be described as: MadMax + Motorstorm + Robocraft.
by Abubakr
Super Evil Megacorp has announced the start of Vainglory's global release, starting with the Apple App Store in Southeast Asia, Australia...
by MissyS