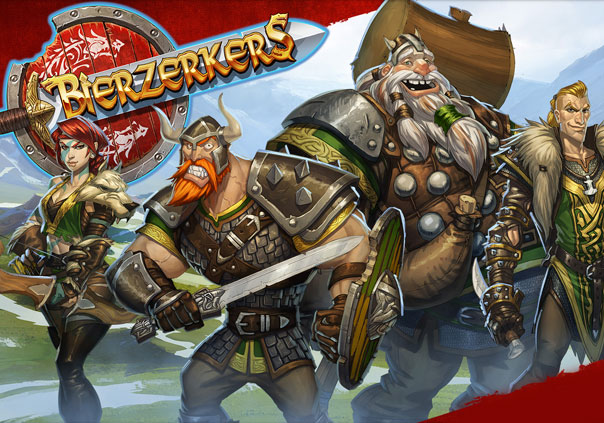 Bierzerkers is an upcoming team-oriented MOBA being developed by Shield Break Studios and will be available on Steam Early Access. Bierzerkers is set in the afterlife of the Vikings, where the Norse can drink and fight to their hearts' content. In a land of stylized Norse visuals, you will be able to assume the role of one of five differing classes and work with other players to bring victory to your team. Teams will need to work together well, playing to every member's strengths and weaknesses to properly execute engagements. Bierzerkers also has a high skill cap and offers players with the most ruthless of spirits the chance to fight their way to the top ranks. Will you become the most revered Viking in all of Brewhalla?
Classes:
The Scoundrel – Assassin who is quick on his feet, acting as a glass cannon whose massive damage can come as a surprise, but whose low defenses leave him vulnerable.
The Huntress – Ranger who uses a frost bow with freezing and slowing skills to control the battlefield.
The Drunkard – A support class that uses healing skills to help sustain his allies and wields a two-handed hammer for melee attacks.
The Raider – A close quarters melee fighter who is a jack of all trades, possessing both good offensive and defensive capabilities. He excels at chasing down fleeing enemies.
The Valkyrie – A master of defense that can provide her allies with shields, wall off enemies, and uses a spear for long-ranged melee attacks.

Status: Pre-Release
Release Date: Jul 09, 2015
Business Model: Retail
Developer: Shield Break Studios
Publisher: Shield Break Studios
Category: Stand-alone
Genre(s): 3D, MOBA, Fantasy, Fighting
Platforms: PC

Pros:

+Varying class roles.
+Highly stylized graphics.
+Entertaining concept.

Cons:

-Limited information available.