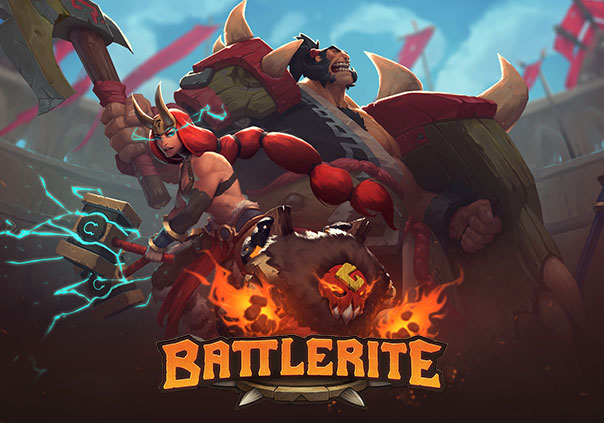 Battlerite is a free-to-play fantasy MOBA developed by Stunlock Studios for PC and is available for purchase on Steam Early Access. It gives players the chance to experience a unique combination of a fast-paced fighting game with some top-down shooter elements mixed in as well.
Battlerite's arena battles can support 2v2 and 3v3 matches where players will battle it out in intense, high-action matches as the champions of their choice in a top-down perspective. Every champion has its own special abilities and ultimate attacks that set them apart from the rest, enabling players to create their own diverse teams with many possibilities for team fights. Battles are held in 10-15 minutes matches of completely explosive, non-stop action so you'll have to be ready at all times for anything that could come your way. After all, you never know where your enemies might be hiding in the fog of war.
The top-down bullet-time system in Battlerite will also give you the chance to review your deaths as they happen. Re-think decisions each time you get taken down, learn from them, and also watch some of your favorite moments once more. Who wouldn't want to re-watch their proudest moments where they pulled off mind-boggling, split-second dodges?
As you play you'll also be able to perform ancient rites. Ancient rites will give you access to new powers and help you grow even stronger. Not only will ancient rites allow you to customize your playstyle, but they'll also enable you to counter your opponents throughout the match! Perform well and you'll hear the roars of the crows cheering you on from outside of the arena. You might even gain some fans along the way.
Use skill-shots, timing, and your reaction speed to take on both friends and foes on your quest to unleash your inner champion in Battlerite!
Status: Released
Release Date: Nov 08, 2017
Business Model: Free to Play
Developer: Stunlock Studios
Publisher: Stunlock Studios
Category:

Stand-alone

Genre(s):

3D, MOBA, Fantasy

Platforms:

PC, Steam


Editor's Score: 5/5

Pros:

+Very competitive.
+Match times aren't too long.
+Properly balanced characters.

Cons:

-Bullet-time system causes game to lag.
-Has no built in VoIP, could shine with it.
-Ranked and normal queues are mixed together.



Recommended System Requirements:

OS: Windows 7 or newer
CPU: Dual core from Intel or AMD at 2.8 GHz
RAM: 2 GB
GPU: Intel HD 3000 or better
HDD: 1500 MB



Description: Battlerite is a buy-to-play fantasy MOBA where players can select a champion, take to the arena, and fight against other players while gaining fans! Performing ancient rites will give you an edge in combat, but working with your team members is key to your success.
WEBZEN Inc., a global leader in next-generation free-to-play games, reveals a heart-stopping new PvP mode for the modern military FPS, ARCTIC ...
by MissyS
Skyforge will hold its fourth and final closed beta test from June 23-29 and will give all players access to two high-tier classes.
by MissyS
E3 is here again, and just when we think all its surprises are out in the open, the show continues to shower us with blessings.
by DizzyPW