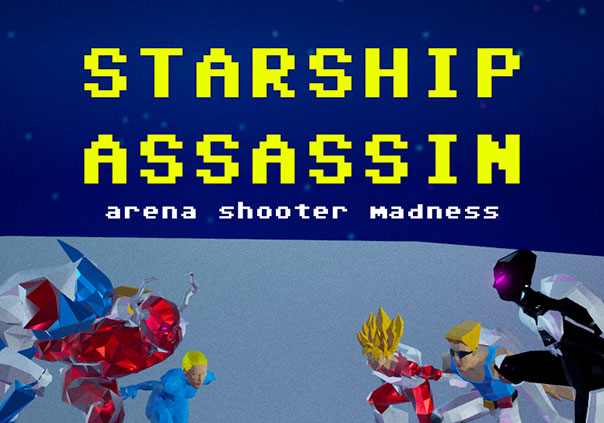 Starship Assassin is a 3D MOBA shooter developed by Blackcloud BSG for PC set in a dystopian future where all resources have been extracted and corporations are seeking new ways to make money. Many companies are now investing in their own A.I. and trying to develop the smartest one possible that will make new business plans for them. Hopes are that the A.I. might become strong enough to devise a plan to travel to other universes that could be mined for their resources.
Whatever corporation's A.I. figures this out first will have unrestricted access to the resources of the universe before all others, leaving them in the dust while expanding their business empire. In Starship Assassin players can play as an evil corporation battling against other players with lasers to strengthen their own A.I. Core. Whoever gets their A.I. Core to level 10 first wins and achieves cross-universe travel.
While players are off battling they must also keep in mind resource collection that will fuel the development of their A.I. Core. On top of having a laser, each player is also armed with a jetpack that will help them maneuver around in space and a special ability that will help their team. Whether its an extra offensive boost or defensive capabilities, your team will surely appreciate your unique skills. Other events like wormholes will come into play which could lead the way to secret items, help players gain even more levels, or possibly cause players to run into enemies and fight for their very lives. Game arenas are randomly generated, so exploring your surroundings will pay off with knowledge of resource locations and valuable secrets.
Take to space in Starship Assassin and help your corporation create the most powerful AI in the universe. Resources are limited and time is of the essence!
Status: Pre-Release
Business Model: Free to Play
Developer: Blackcloud BSG
Publisher: Blackcloud BSG
Category:

Stand-alone

Genre(s):

3D, MOBA, Shooter

Platforms:

PC



System Requirements not yet known.


Description: Starship Assassin is a 3D shooter MOBA where players will fight for their corporation's right to the resources of the universe! Whoever can strengthen their A.I. to level 10 first will achieve cross-universe travel and unrestricted access to these resources!
It's almost time to immerse yourself in the battle royal arena of Pangea World in the latest Mighty Party Guilds update!
by Ragachak