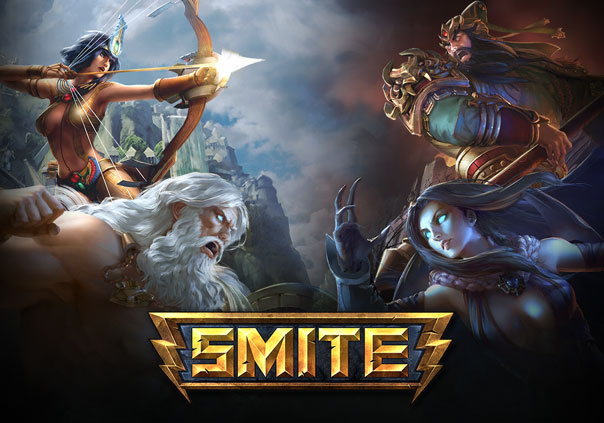 SMITE
(350 votes, average: 4.05 out of 5)
SMITE is a third-person perspective MOBA by HiRez Studios where players can choose from a wide variety of deities from different Pantheons to take into the Battleground of the Gods.
The primary game mode of SMITE is Conquest. Conquest is a 5v5 match where the ultimate goal is to push into the enemy base, past their Phoenix and defeat the guardian. This map features different side objective like jungle buffs, the Gold Fury which offers the killing team lump sum of gold, the Portal Demon which offers the killing team a portal that goes from their base to the Fire Giant, and the Fire Giant which gives the killing team a team-wide buff.
Other game modes include Arena, Joust, Assault, Siege, Clash, and the MOTD (Match of the Day). Arena is a 5v5 in a circular ring where the goal is to reduce the enemy Tickets to 0 which is done by killing enemy players or pushing creep waves into the enemy's portal. Joust is a 3v3 one lane map with off-shoots for buffs and a Chinese mythology aesthetic. There are a few other 5v5 style modes as well such as Assault, Siege and Clash. MOTDs often have fun and wacky rules, whether that means everyone has to play the same deity, skill cooldowns are practically nonexistent, players start with an massive amount of gold or something else entirely!
By the end of Season Four there are 9 different Pantheons players can choose deities from: Celtic, Chinese, Egyptian, Greek, Hindu, Japanese, Mayan, Norse, and Roman. Just a few of the many deities you can choose from include: Anhur, Bastet, Chiron, Kali, Mercury, Zeus, Hades, Cernunos, Arachne, Ares, Athena, Xbalanque and tons more! There are five different classes for deities that determine their general playstyle: Assassin, Guardian, Hunter, Mage, and Warrior. There is a deity for practically any scenario and any situation once you factor in the skills they have and item build choices, so you're sure to find one you synergize with!
SMITE is becoming increasingly dynamic with every season offering new metas, builds, and brand new deities to mix things up. Dive into the Battleground of the Gods today and find out if you've got what it takes to do battle with the Gods themselves!
Status: Released
Release Date: Mar 25, 2014
Business Model: Free to Play
Developer: Hi-Rez Studios
Publisher: Hi-Rez Studios
Category: Stand-alone
Genre(s): 3D, MOBA, Strategy
Platforms: PC, Steam, Xbox One, PS4


Editor's Score: 5/5


Pros:

+Unique setting and characters with fast gameplay.
+Well designed itemization and active abilities.
+Regular updates and multiple gamemodes.

Cons:

-Progression can be slow without cash shopping to unlock gods.



Recommended System Requirements:

OS: Windows Vista / 7 / 8 (64-bit)
CPU: Intel Core i5-750, 2.67 GHz / AMD Phenom II X4 965, 3.4 GHz
RAM: 4GB
GPU: NVIDIA GeForce GTX 560 / AMD Radeon HD 6950 or better with 768 MB+ of VRAM (DirectX 11 Compatible)
HDD: 10GB