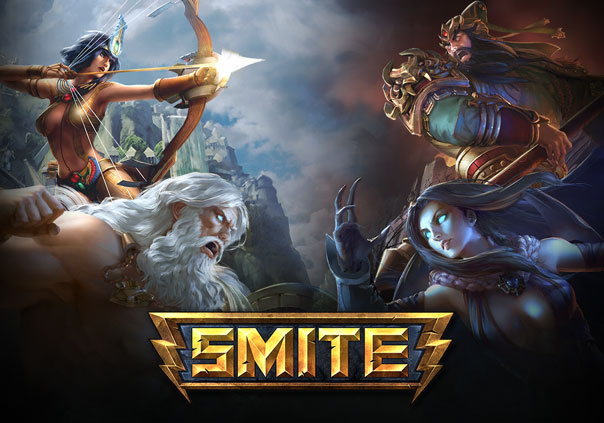 Overview
SMITE is a third-person perspective MOBA by HiRez Studios where players can choose from a wide variety of deities from different Pantheons to take into the Battleground of the Gods.
The primary game mode of SMITE is Conquest. Conquest is a 5v5 match where the ultimate goal is to push into the enemy base, past their Phoenix and defeat the guardian. This map features different side objective like jungle buffs, the Gold Fury which offers the killing team lump sum of gold. The Portal Demon and Fire Giant give buffs to the team that claims their lives on the battlefield. In Conquest, warding is one of the most important skills to master, as placing wards notifies your team when an enemy is nearby. Conquest can also be played in a Ranked setting, where players compete from Bronze to Grandmaster, going through placements and then climbing or falling depending on the skill of their team.
Arena is a more casual 5v5 mode, where players team up in a circular arena, and the goal is to reduce the enemy teams "Tickets" to 0. Defeating enemy waves lowers the ticket amount, as do player kills. As the team's Bomb Meter fills, a large minion carrying a massive bomb will enter the field, and will only move if that team is near it. So the goal then becomes to get it to the other side of the Arena without its hp being depleted. Unlike Conquest, Joust and other modes, Arena has no set meta, and it is much easier to play almost anything a player wants in this mode.
Clash is another 5v5 mode with a more Egyptian setting. It features two lanes, a small jungle on both sides, and a center camp that houses a large worm enemy to get a buff for one player. It feels like a smaller Conquest, with the same goal of ultimately defeating the enemy Guardian. In Siege, another two lane map, players work towards getting siege juggernauts to help push down the enemy towers and their base. Assault is the final main game mode, and five players randomly get assigned a god for a one lane map, with two towers, one phoenix on each side and a guardian at the end. Joust is a 3v3 mode that was recently updated to feature a Chinese theme. It has two lanes, a jungle on each side, and instead of the Fire Giant or giant worm, it has a Bull Demon to fight. This mode can also be played ranked.
There are also the MOTD (Match of the Day), which are special events that do not complete quests, but are fun, casual, often wacky matches. From "Til Death", or all five players play the same God with almost no cooldowns or restrictions, these are fun and rotate out on a daily basis. Adventures were also added, which are free, temporary matches players can group up and tackle. These Adventures also have optional bundles to purchase that come with skins, other cosmetics, and a Key. That key opens the Smite vault and allows them to purchase one of several exclusive skins.
Story
People have always worshipped the gods. However, calamity and disorder happens anyway, no matter how hard people pray to them. With the constant destruction and disarray in the world, people instead stopped worshipping the gods of old. The gods, being worried are split on how to fix this and get people worshipping them again. They're split in to two sides, those who prefer Order, and those who prefer Chaos. Order wants to lead the people and help them thrive, and the Chaos faction prefers to instill fear and dread in people to make them worship. The gods are now battling to see which side is correct, and thus, the Battleground of the Gods has appeared.
Pantheons/Roles
There are presently 98 gods in SMITE, the latest being Hera. There are also twelve pantheons, each with their own gods, which come with their own skills, abilities, and roles. As of present, there are the Celtic, Chinese, Egyptian, Greek, Hindu, Japanese, Mayan, Norse, Polynesian, Roman, Slavic, and Voodoo gods. Polynesian, Roman and Slavic were added this year, Celtic in the previous season, and Japanese the season before that. Each god has their own role, but many can excel in other places on the team.
Hunter: Hunters deal physical damage, and work in the duo lane of Conquest. They tend to have some form of damage steroid to buff themselves. They're often one of the carries of the team, and in Conquest tend to stay on their own pushing the duo lane until it is team to work together in teamfights.
Guardian: These are the main supports, and are typically high health and high defense, but there are also healers that fill this role too. Crowd control, movement abilities, and magical damage are hallmarks of the Guardian role. They begin helping the Hunter and then move on to help the Mage or other members of the team, and tend to be primary warders.
Mage: Mages in SMITE come in a few flavors: Utility Mage (crowd control, less damage, though sustained), Damage (Sustained damage, good in teamfights) and Hypercarries (huge, insane amounts of burst damgae, often banned in modes where picks/bans happen). Magical damage users, they tend to be a little less mobile than other charadcters.
Warrior: Warriors are the physical melee damage dealers, and tend to also be on the bulkier, tankier side like guardians. They can run in the duo lane as a support, but tend to be in the jungle or more likely, the solo lane. Warriors have varied kits, but a hallmark tends to be a mobility power, such as a leap or dash, and at least a few damaging abilities. Warriors are possibly the most flexible role to pick.
Assassin: Assassins can be physical or magical and are known to be able to burst a player or group of players down very quickly, with a precision combo.
Microtransactions
SMITE has what could be considered the "Best Deal in Online Gaming", called the Ultimate Gods Pack. For 30 dollars (though occasionally discounted), a player will receive every god that comes out for SMITE, past, present and future. Players can also spend real money (Gems) or favor (in-game currency) to acquire gods, as well as their recolor skin. Every god receives a recolor when they launch, as well as mastery skins for Mastery level 1, 5 and 10. These can also be purchased with Gems or Favor. Each update, new skins are released, and some are purchasable with Gems directly, and others are listed in Chests.
Chests have a certain amount of cosmetics in them, from skins, voice packs, and other profile changes, and paying the appropriate amount of Gems gives a reward at random. Newer chests tend to offer a choice between one of three items to select from. SMITE also recently added Daily Sales, where a set amount of gems gives three cosmetics for your account. There are also yearly events with exclusive skins, that are purchasable within a limited period of time.
Status: Released
Release Date: Mar 25, 2014
Business Model: Free to Play
Developer: Hi-Rez Studios
Publisher: Hi-Rez Studios
Category:

Stand-alone

Genre(s):

3D, MOBA, Strategy

Platforms:

PC, Steam, Xbox One, PS4


Editor's Score: 5/5

Pros:

+Unique setting and characters with fast gameplay.
+Well designed itemization and active abilities.
+Regular updates and multiple gamemodes.

Cons:

-Progression can be slow without cash shopping to unlock gods.
-No crossplay.



Recommended System Requirements:

OS: Windows Vista / 7 / 8 (64-bit)
CPU: Intel Core i5-750, 2.67 GHz / AMD Phenom II X4 965, 3.4 GHz
RAM: 4GB
GPU: NVIDIA GeForce GTX 560 / AMD Radeon HD 6950 or better with 768 MB+ of VRAM (DirectX 11 Compatible)
HDD: 10GB



Description: SMITE is a MOBA focusing on the battles between the gods of several different pantheons, including Greek, Egyptian, and Norse. Players use custom powers and various team tactics in order to defeat both AI and player-controlled opponents in fast paced arena-style action.
TERA surprised us with news late last evening of a massive expansion hitting today.
by DizzyPW
Frontier Developments plc announces the starting dates for the new testing phases for its Elite: Dangerous game.
by MissyS
Broken Realm takes on many of the great MMORPG elements that people know and love, as well as incorporating some unique new features. Players ...
by JamesBl0nde