SMITE Celebrates 10th Anniversary With Free Rewards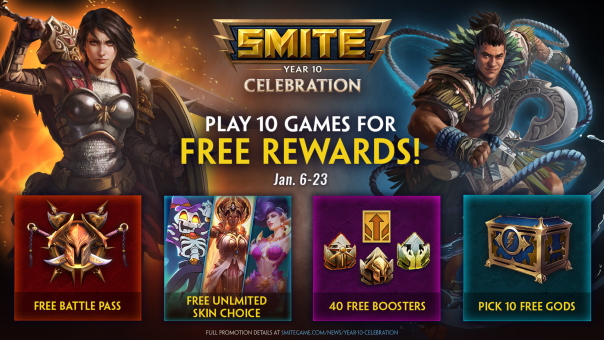 Starting today through January 23rd, SMITE kicks off 2023 with one of its biggest live events ever to celebrate both its 10th anniversary and the World Championship! Anyone who plays 10 games of SMITE earns a wondrous bundle of gifts – entirely for free. That includes very prized treats such as Unlimited skins, the Premium Battle Pass: Cyber-Tokyo, and 10 Gods permanently unlocked. In total, over 35$ of in-game content is up for grabs.
Until January 23, players who complete 10 games can redeem a special Year 10 bundle full of gifts. They will get to pick from a chest of Tier 4 skins, among the rarest in SMITE. You'll also unlock the current Battle Pass: Cyber Tokyo – or 10 levels if you already own it. Another exceptional reward especially for newcomers is a bundle of 10 'Pick Your Own God' chests, each one unlocking any playable deity that you desire.
The event also includes a booster bonanza: 10 days of account boosters that will increase all in-match gains, plus 10 boosters of each sort—Worshiper, Favor, XP, Skin, and Voice Pack boosters—to give you a boost into the New Year!
Pumping up the celebration, a huge Gem Sale is happening from now until January 15. The premium currency in SMITE is up to 33% off and you can even earn Gems for free just for playing during Gem Storms! A selection of chests is also discounted by up to 50%.
The SMITE World Championship (SWC) group stage happening today through Sunday will be a decisive beat leading to the SWC itself on January 13-15th, in Arlington TX! The competition will crown the Season 9 champions of the SMITE Pro League and also feature a special Year 10 Keynote Presentation on Friday, January 13th 1:30 PM ET. This 20-minute window will be filled to the brim with incredible announcements and reveals for the exciting SMITE content coming up this year.
The first game update of 2023 launching the 10th Year of SMITE is scheduled for January 24th.
Portalarium and Travian Games are committed to releasing monthly updates for Shroud of the Avatar to keep the flow of content going.
by Ragachak
War of the Light Part II, DCUO's 12th downloadable content (DLC) pack, unites Green Lantern Hal Jordan with his rival Sinestro, as the two m...
by MissyS
En Masse Entertainment has announced that TERA on PlayStation 4 and Xbox One will receive the new character class, the Ninja, on September 18.
by MissyS