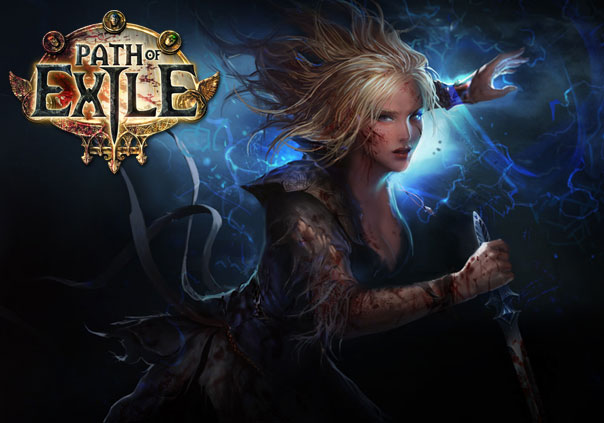 Path of Exile is an Action RPG brought to us by Grinding Gear Games. It offers a style of gameplay made popular by the Diablo series of games, but with quite a few twist to make their take on the genre quite unique. With its massive talent trees, immersive world, and fantastic gameplay, it's easy to realize just why it has such a big following. And for those that like to have a challenge or are competitive, there is hardcore mode and plenty of race leagues for you to take part in.
Exiles:
Templar – The Templar is Path of Exile's Strength/Intelligence hybrid, a perfect balance of brawn and wits.
Marauder – The Marauder is Path of Exile's pure strength class, which means that he's great at taking hits, and even better at dishing out punishment.
Shadow – The Shadow is Path of Exile's Dexterity/Intelligence class. He prefers to use fast-hitting weapons such as daggers or claws to dart in and out of battle, while laying Traps or Remote Mines and controlling the flow of combat.
Ranger – The Ranger is Path of Exile's pure Dexterity class, which befits her slim and graceful appearance. She is agile and fast, darting in and out of combat to deliver vicious critical strikes that often fell her enemies in a single blow.
Witch – The Witch is Path of Exile's pure intelligence class, making her an unmatched master of the elemental and dark arts. She wields the power of raw magic to decimate her foes from a distance.
Duelist – The Duelist is Path of Exile's Strength/Dexterity Hybrid class, making him unmatched at dealing and avoiding damage. He can effectively use a shield, but is equally comfortable slashing away with a powerful two-hander or fighting with weapons in both hands.
Scion – The daughter of corrupt nobles, the Scion was exiled to Wraeclast for killing her husband on her wedding night. She is aligned with all three core attributes – Strength, Dexterity and Intelligence, which places her right in the center of the passive skill tree. This unique position allows her to develop into almost any type of character build, while lacking the dedicated specialisation that the six existing classes offer.
Features
►Unique Passive Skill Tree and slotted skill gems system allows for myriad possibilities for character building. A theory-crafter's dream.
►Frequent updates keep the game feeling fresh, adding seasonal leagues for unique challenges and new gear.
►Action packed combat system keeps things interesting and lively.
►Customize your very own Hideout.
Expansions
►Sacrifice of the Vaal: Added late-game boss, Queen Atziri, Vaal side areas, Vaal skill gems, Vaal Orb and corruption, Ambush and Invasion challenge leagues, new PvP modes.
►Forsaken Masters: Player housing in the form of a hideout, Master EXP, Master Crafting, new support and skill gems, Rampage and Beyond challenge leagues, Passive Skill Tree balance tweaks.
►The Awakening: Added a Fourth Act to the game, with new quests, new areas, scores of new monsters, new items and skill gems, passive skill jewels, and Divination cards.
►Ascendancy: Introduced Ascension classes, new items, new maps and new gems as well as Perandus challenge league.
►Atlas of Worlds: Improvements to game engine, overhaul of map systems and Atlas of Worlds added, prophecy system added, Essence League introduced.
►Fall or Oriath: Removed Cruel and Merciless difficulties, but added 6 new acts. Game divided between Part 1 (Acts 1-5) and Part 2 (Acts 6-10). Added The Pantheon, new items, new skill gems, and the Harbinger League. Many balance changes added.
►War for the Atlas: Mainly reworked Atlas of Worlds endgame content. Added The Elder, Elder Guardians, new items and skill gems, abyss jewels and the Abyss challenge league.
►Betrayal: New hideouts, new Masters and reworked mastercrafting. New maps. Betrayal challenge League.
Microtransactions
A whole lot of cosmetics, and storage space. That's it. Path of Exile avoids pay-to-win mechanics like the plague, and it's a big part of their success.
Status: Released
Release Date: Jan 23, 2013
Business Model: Free to Play
Developer: Grinding Gear Games
Publisher: Grinding Gear Games
Category:

Stand-alone

Genre(s):

3D, Adventure, RPG, Fantasy

Platforms:

PC


Editor's Score: 4/5

Pros:

+Non class specific skill system.
+Gritty Realistic Art Style.
+Unique currency system.
+Complex game mechanics.

Cons:

-Intimidating for new gamers.
-Can be repetitive.



Minimum System Requirements:

OS: Windows XP SP3 / Vista / 7 / 8
CPU: Pentium 4/Athlon 64 1.4ghz or better.
RAM: 2GB
GPU: NVIDIA® GeForce 7800 GT or ATI Radeon X1950 Pro or better
HDD: 5GB



Description: A competitive online action RPG set in the fictional continent of Wraeclast.
Carbine's philosophy of "The Devs Are Listening" extends beyond those that are creating the game; it's also a mantra the Community tea...
by Mikedot
NGames has announced the introduction of powerful new heroes to the closed beta of free-to-play strategy MMO, Pockie Kingdom. New heroes will ...
by Mikedot
PLAYWITH Interactive is proud to announce the launch date for their buy-to-play MMO - November 28th.
by Ragachak