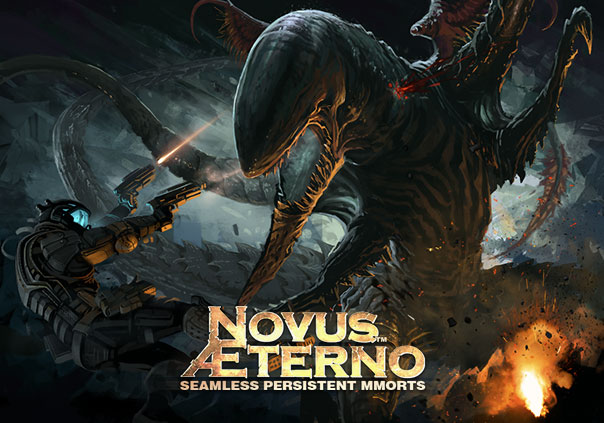 Latin for "New Beginning of Time", Novus Aeterno is an MMORTS – part Massively Multiplayer Online, part Real Time Strategy game. Novus Aeterno will primarily be focused around the thousands of empires all vying for superiority among the stars. Five races have been shown so far, but only humans are playable in the current build of the game. There will not be research/tech trees like in traditional RTS style games, but instead uses a CP [Command Point] system that will help to balance new and old players. The greater the technology, the higher the cost.  The universe is persistent and when you log out of the game, your empire sticks around, but under the watchful eye of "Overwatch", the games A.I.. Ships that were destroyed between fifteen to thirty minutes of your logging off will slowly respawn at almost no cost to the losing player which can help defend while you are away from the empire. You cannot lose your home planet and there will always be ways to rebuild, regrow and come back into the game, no matter how dire the situation is.
Status: Pre-Release
Business Model: Retail
Developer: Taitale Studios
Publisher: Taitale Studios
Category: Stand-alone
Genre(s): 3D, MMO, Sci-Fi, Strategy
Platforms: PC


Recommended System Requirements:

System Requirements not yet known.