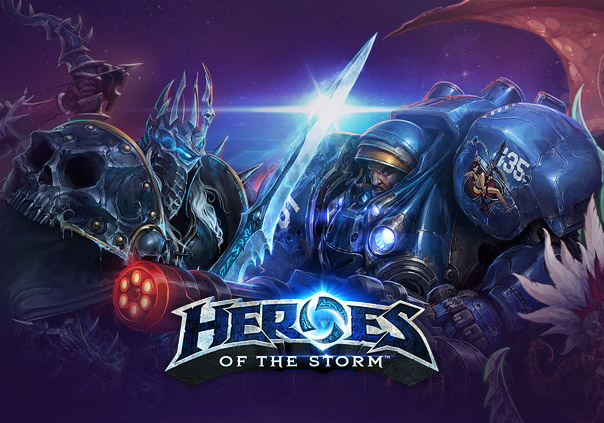 Heroes of the Storm (previously Blizzard DOTA and Blizzard All-Stars) is a MOBA/ Hero Brawler in which the worlds of Diablo, Starcraft, and Warcraft collide in a battle for dominance. Each hero has its own unique play style and set of skills, which players can choose from (even their ultimate) to adapt to each battlefield. Meanwhile, each map has its own unique objectives and challenges. Blizzard has also made attempts to eliminate many of the MOBA barriers or challenges, including last-hits, to offer a definitive twist to the genre.
Story
Within a powerful trans-dimensional storm called the Nexus heroes and villains from across the dimensions do battle in an effort to stop the Nexus from tearing time and space apart.
Features
►Heroes represents more than 20 years of Blizzard gaming history, settings, and iconic characters, all mashed up into an epic, off-the-wall team brawler. Fight out classic showdowns such as Tyrael vs. Diablo and Arthas vs. Uther, or settle those late-night debates you've had about who's the stronger leader—Raynor or Thrall? Could Zeratul take down Illidan in a fight? Who's more badass . . . Kerrigan or the Demon Hunter from Diablo III? The combinations of Blizzard heroes and universes are endless.
►Customization is an important part of playing in Heroes. With plenty of ways to customize how your hero fights and looks you'll be able to choose from an array of unique masteries, heroic abilities, and combat styles that can fundamentally change the way each hero does battle. Skins round out the appearance of your hero, while mounts get you around the battleground in speed and in style. Is that Raynor riding a rainbow pony?
►Heroes features approachable team-based play without sacrificing depth or variety. Whether it's joining with allies in a group fight, or working together to overcome each battleground's unique challenges, you're rewarded for playing as a team. And the hero roles run the gamut from stone-cold death-dealers, to town-razing specialists, to pure healers—each capable of making distinct, valuable contributions to their team's war effort. The game even includes some very specialized heroes, like Abathur, who offsets his lack of head-to-head impact with special abilities that affect the entire battleground.
►Learning your battlegrounds will be key to your success in Heroes. There are a number of unique battlegrounds to play on, each of which is characterized by a core, legendary event that shapes the strategy for the entire match. One battleground features a ghostly pirate ship, whose captain will accept payment of gold doubloons in order to train his ship's cannons on enemy positions. Another battleground includes an underground level, where bones must be collected to summon a fearsome golem to attack your enemies above ground.
►Enjoy a mashup of characters from some of the most iconic games in history in Heroes of the Storm. Choose your Hero, customize them to your liking, and join the battleground with your allies to fight for your team!
Expansions
Blizzard offers frequent updates and events for Heroes of the Storm. You can check out the latest news here.
Microtransactions
Players may play free heroes on a rotating basis or purchase heroes permanently using in game gold. Gold may be purchased for real money or earned through gameplay.
Status: Released
Release Date: Jun 02, 2015
Business Model: Free to Play
Developer: Blizzard Entertainment
Publisher: Blizzard Entertainment
Category:

Stand-alone

Genre(s):

3D, MOBA, Fantasy, Sci-Fi, Strategy

Platforms:

PC, Mac


Editor's Score: 4/5

Pros:

+ Familiar cast of heroes
+ Frequent updates to improve gameplay
+ Maps with differing objectives

Cons:

- Lootbox system makes it hard to get the cosmetics you like
- Sometimes toxic atmosphere



Recommended System Requirements:

OS: Windows 7 / 8 / 10, OS X 10.10.x
CPU: Intel Core i5, AMD FX Series, or better
RAM: 4 GB
GPU: NVIDIA GeForce GTX 650, AMD Radeon HD 7790 or better
HDD: 10 GB



Description: Heroes of the Storm (previously Blizzard DOTA and Blizzard All-Stars) is a MOBA/ Hero Brawler in which the worlds of Diablo, Starcraft, and Warcraft collide in a battle for dominance.
Check out all the videos below, covering April Fools' ongoings this year!
by MissyS
Earlier in June I had a chance to speak with Jungkeun Lee on the next big mobile game to head our way from Nexon's new mobile gaming focu...
by Outfoxed
As you would expect from a game in this genre, Heroes of the Storm revolves around the idea of 5v5 battles to destroy enemy buildings & ba...
by Abubakr