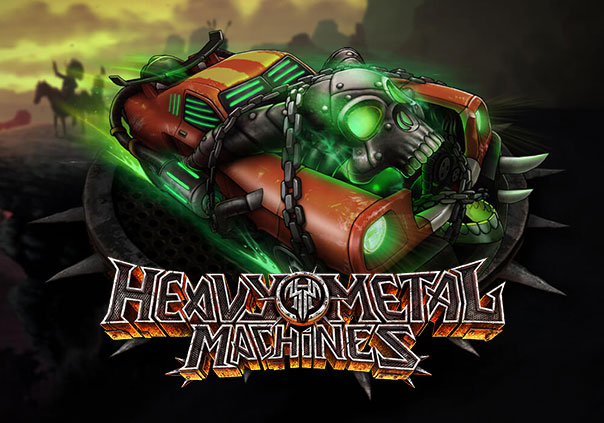 Heavy Metal Machines is a free-to-play sci-fi strategy racing game developed by Hoplon Infotainment for PC and will be available on Steam for download sometime in 2016. The apocalypse is finally over and there are only Heavy Metal Machines remaining. In a world now riddled with utter madness, chaos, and nonstop destruction your wits will be put to the test as you try to destroy your enemies by delivering the bomb to their base if only for your own survival.
Competitors from all around the world will join you in intense 4v4 matches where death-defying stunts will become the norm. You'll need to customize your car, your armory, and your character in every way possible to give you an advantage over your competitors if you wish to live to race another day. After all, this world thrives on boldness so be as bold as your heart desires!
Heavy Metal Machines has three different roles that you can play as: Interceptor, Support, or Transport. Interceptors specialize in stopping enemy vehicles from taking the bomb. They have decent damage and push capacity that will help them bulldoze their way to the bomb. Supports specialize in helping bomb carriers deliver the bomb by shielding them from further damage or repairing damage that they've already incurred. Transporters are the most agile of the three vehicle classes and they specialize in taking the bomb to the enemy base. Different vehicles are available for each class and they will all have their own unique skills that help them fit into their roles in various ways.
Get started in Heavy Metal Machines by choosing your role, choosing your vehicle, and helping your allies get the bomb to the enemy base, but don't forget to shine by staying as bold as possible in the process!
Status: Released
Release Date: Jan 31, 2017
Business Model: Free to Play
Developer: Hoplon Infotainment
Publisher: Hoplon Infotainment
Category:

Stand-alone

Genre(s):

3D, MOBA, Sci-Fi, Strategy, Sports

Platforms:

PC, Steam


Editor's Score: 3.5/5


Recommended System Requirements:

OS: Windows Vista SP2 or Newer
CPU: 2.0+ GHz Quad core
RAM: 4 GB
GPU: Nvidia 260 series or ATI 5850 or better
HDD: 3 GB



Description: Heavy Metal Machines is a free-to-play sci-fi strategy racing game where you and your allies must work together to deliver a bomb to the enemy base in your own crazy, destructive vehicles. Become an Interceptor, Support, or Transporter and fulfill your duty to your team!
Leading online game developer and publisher, Joymax, today begins a new celebration for their new daily Genie's Lamp quest in their MMORPGs,...
by MissyS
The first major update for the recently launched MMORPG Kritika Global is now live with the introduction of the new competitive guild feature,
by MissyS