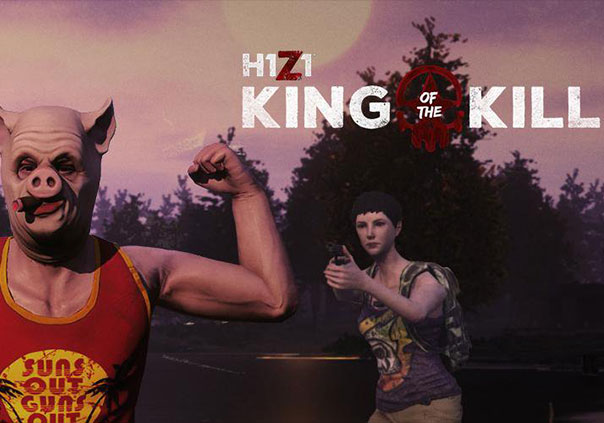 H1Z1: King of the Kill is a fast-paced multiplayer shooter being developed by Daybreak Games for PC, Xbox One, and PS4. Originally starting out as a special game mode within the original H1Z1, King of the Kill quickly gained popularity as a community favorite game mode and as such has been assigned its own dedicated resources so that it can become even more. H1Z1: King of the Kill will feature its very own multiplayer game modes, like Battle Royal, where players will compete against one another in large-scale PvP battles. At the end of matches rewards will be doled out to players, leaving them with some exciting loot and the newly acquired envy of others.
In the Battle Royal game mode, players will be able to parachute into the battleground with up to 170 other players, instantly needing to be on the look out for supplies that they can use in their victory strategy. Prove that you're the ultimate survivor by being the last man standing! Team-oriented versions of Battle Royal are also supported and will let you fight alongside friends for a glimpse of survival.
Remember, dying is for losers!

Status: Pre-Release
Release Date: Sep 20, 2016
Business Model: Retail
Developer: Daybreak Games
Publisher: Daybreak Games
Category: Stand-alone
Genre(s): 3D, MOBA, Shooter
Platforms: PC, Steam, Xbox One, PS4

Pros:

+Massive number of players in each battleground.
+Worthwhile crafting system.
+Dynamic weather.



Recommended System Requirements:

OS: Windows 7, 8, 8.1, 10 (64 bit only)
CPU: Intel i5 Quad Core or higher / AMD Phenom II X6 or higher
RAM: 8 GB
GPU: nVidia GeForce GTX 560 series or higher / AMD HD 6870 or higher
HDD: 20 GB



Rainbow Saga Beta Impressions
First off: The game starts out with no character customization options. Players will just pick their character as either a male or a female an...
by Mikedot