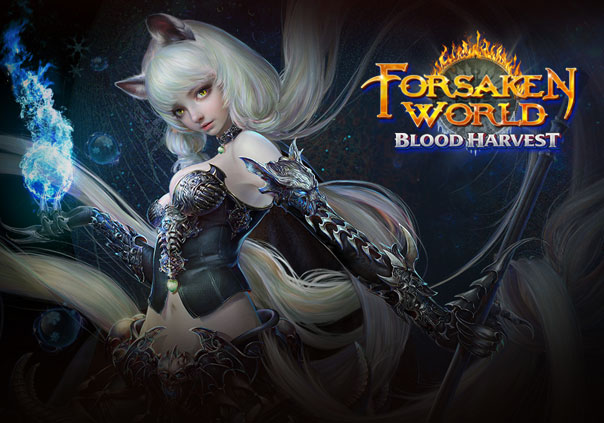 Forsaken World is the sixth MMORPG by Perfect World Entertainment for the North American market. The game officially launched into open beta on March 09, 2011. Original features in Forsaken World include a Vampire race called the Kindred, the ability for up to 10 players per server to become Gods, a unique PvP system, floating fortresses which guilds can fight over, and map-wide skill effects.
Unlike previous Perfect World games, Forsaken World is set in a Western fantasy world rather than the usual oriental setting. Perfect World Entertainment also publishes Jade Dynasty, Ether Saga Online, Battle of the Immortals, Rusty Hearts, and Legend of Martial Arts.
Races – Stoneman, Elf, Dwarf, Human, Kindred, Lycan
Occupations – Socialite, Adventurer, Merchant, Collector, Arcanist, Botanist, Astrologist, Armorsmith, Blacksmith, Tamer, Alchemist
Classes:
Warrior – The central figure of any group. Warriors have high health and can deal heavy damage at close range.
Protector – The tank, or defensive fighter of Forsaken World. Protectors absorb blows for their allies. They have heavy health and defense but limited damage output.
Assassin – Masters of stealth, Assassins deal high damage at close range. They have light armor and health and cannot stand toe to toe with enemies for long.
Marksman – Wielding long-ranged weapons, Marksman fight their enemies from a distance. They deal consistent damage over time, but are lightly armored.
Mage – Masters of the elements, Mages are a dieing breed in Forsaken World but those that remain are deadly. They have high damage output but low defense and health.
Priest – Supportive casters who heal and bolster the fighting capabilities of their allies.
Vampire – A mysterious class that mixes magic with melee attacks. Vampires use their own health to perform attacks, but absorb the life of their enemies.
Bard – A supportive class whose music can effect those around them. Bards can disable enemies or buff allies nearby.

Status: Released
Release Date: Dec 12, 2012
Business Model: Free to Play
Developer: Perfect World Entertainment
Publisher: Gearbox Publishing
Category:

Stand-alone

Genre(s):

3D, MMO, RPG, Fantasy

Platforms:

PC


Editor's Score: 4/5

Pros:

+Unique Soul PvP system.
+Map-wide skill effects.
+Plenty of crafting options.
+Varied races and classes.

Cons:

-Some translation errors.
-Generic fantasy setting.



Recommended System Requirements:

OS: Windows Vista or Windows 7
CPU: Mid to High Range Dual-Core 2.5GHz CPU or better recommended.
RAM: 3GB
GPU: GeForce FX 5200 128MB / ATI Radeon 9500 128MB
HDD: 8GB



Description: Forsaken World is a 3D fantasy MMORPG set in the world of Eyrda. The game offers 6 races, 8 classes, guild battles, and over 10 occupations. Forsaken World is published by the same studio behind Perfect World, and is inspired by European mythology.
The question is: Could Hirez find a way to create an MMO-styled game using the lore they've been creating? Survey says "Yes"
by Ragachak
Blizzard has announced that it has partnered with ESL and Twitch to bring the 2015 Americas Championship live from Las Vegas, Nevada.
by MissyS
The latest update for Scarlet Legacy will have players gearing up in gold.
by MissyS