Outwar is a 2D browser based RPG. Select from one of three classes, and set out on an adventure across a desolate world filled with monsters, villains, and danger. Develop your character with skills and enhancements, equip various weapons and armor, and use powerful augments in battle to overcome. Participate in epic raids, or team up ith others to collect a bounty from a hit-list!
Publisher: Rampid Interactive, LLC
Playerbase: Medium
Graphics: Low
Type: MMORPG
EXP Rate: Medium
PvP: Yes
Filesize: N/A
Pros: +Simple game mechanics. +Self-driven character development. +Easy to play in quick sessions.
Cons: -Game feels horribly dated. -Might be too simplistic for some. -Repetitive.
Overview
Outwar Overview
Outwar is a simple to play browser MMO, where you control a character in a wasteland area. You choose between a monster, a gangster, or a popstar, and can develop their skills however you see fit. Monsters are more focused on attack, while gangsters are "tank" oriented. Popstars are balanced between the two of them. Characters can equip various weapons and armor in the game as well. Joining with a crew allows multiple players to tackle hard, raid level monsters, or go after bounties on others.
Outwar Screenshots
Outwar Featured Video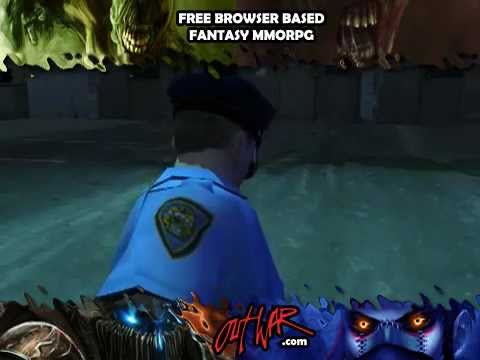 Full Review
Outwar Full Review
Coming Soon…
Screenshots
Outwar Screenshots
Coming Soon…