Step Inside Your Own Weapon In MechWarrior 5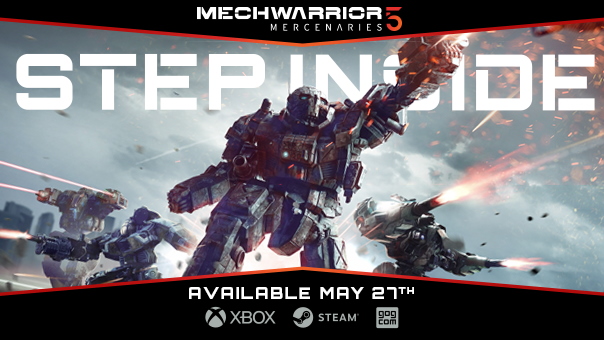 3015. A thousand years from now, humanity thrives in the galaxy, expanding far beyond its home Earth. But expansion breeds war, and the Great Houses of the Inner Sphere – massive factions that seek dominance of the colonized universe – are on the galactic battlefield.
This isn't a problem for you: in fact, it's great for business. As the commander of a MechWarrior Mercenary company, you have people – and 'Mechs – ready to fight for the highest bidder.
When the contract is settled, and you step inside your 'Mech, you feel it: that moment of perfect calm surrounded by tension. There was a saying once that fits this moment: "the eye of the storm." Except you are also driving the storm, letting your 'Mech become an extension of yourself. In these moments, you are your weapon.
And this is MechWarrior 5.
­

MechWarrior 5 is more than a military shooter. You're in charge of an entire Mercenary company, and that means you're responsible for hiring MechWarriors, obtaining and maintaining your fleet of 'Mechs, and keeping up your relationships with the Great Houses of the Inner Sphere. After all, you want the best Contracts for your company. There's nothing else like it.
Previously an exclusive title on the Epic Games Store, MechWarrior 5 will be released on May 27, 2021 on Xbox Series S|X, Xbox One, GOG, and Steam (PC). At the end of May, you and thousands of others will be welcome into the latest of the classic 'Mech battling series!
This platform release means that MechWarrior 5 will have crossplay enabled on all systems, including co-op DLC, achievements, and full gamepad support. All of this is in addition to the Campaign, Instant Action system for isolated missions, and the endless gameplay available through community mods – all available for free as part of a base game update that goes live with the crossplatform launch.
Additionally, May 27 marks the launch of game's first DLC. Titled "Heroes of the Inner Sphere," the DLC will offer a brand new career mode with an expanded Inner Sphere map and multiple career paths to explore. Discover seven new 'Mech chassis, new missions, and new equipment and weapons including Chem Lasers and ECM (Electronic Counter Measure). Plus much more!
You can find MechWarrior 5 on the Microsoft Store, Steam, and GOG.
Find out more and begin your journey on the official game website, and connect with the MechWarrior 5 community on Facebook.
This post is sponsored.
Next Article
n-Space and Digital Extremes announced today that composer Inon Zur is composing the original score for Sword Coast Legends.
by MissyS
On December 15th, Ship of Heroes will conduct their login test, with Ship of Heroes devs and supporters.
by Ragachak
Now that she's been officially revealed at NYCC, a character created specifically for Marvel: Contest of Champions has arrived: Morningst...
by Ragachak