Pros and Cons of Gambling in MMOs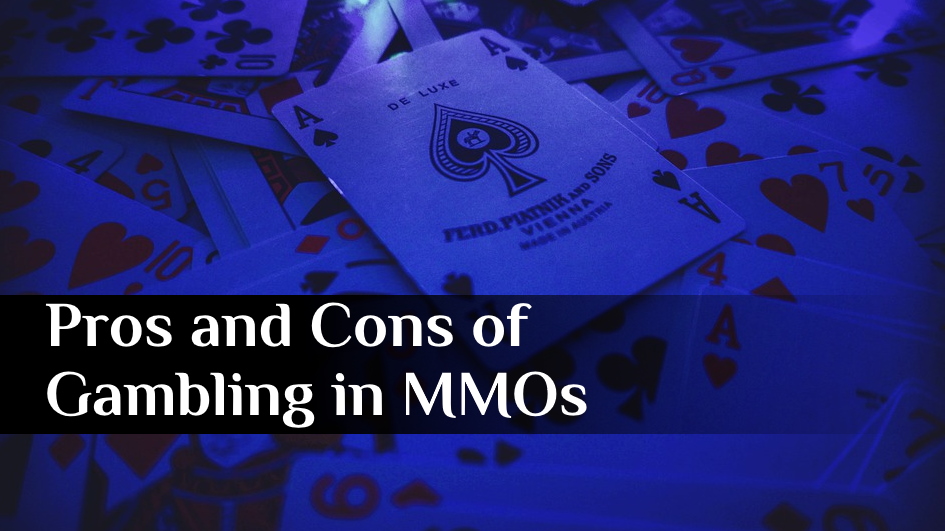 If you are thinking about gambling in MMOs, it is worth exploring some of the advantages and drawbacks before you jump in. In this post, we go over the pros and cons of gambling in MMOs in detail, and offer you some alternatives. Betting in MMOs can be a great transition into gaming at real online casinos. Just make sure to read some Australia internet pokies reviews before you choose casino sites to join.
What are the Pros of Gambling in MMOs?
Here are some of the advantages of MMO gambling:
You can find familiar games to play. As an example, at the Diamond Casino in GTA Online, you can play games like slots, blackjack, three card poker and more.
The stakes can be real. If you are gambling in a game that allows you to purchase in-game currency using real-life (RL) cash, you can use your RL funds to buy in at the tables. The risk you are taking if you follow that approach is very real, which can up the excitement of your virtual gambling experiences.
You do not have to stake real money. Of course, if you would prefer not to risk real funds, you can avoid doing so. Instead, do in-game activities to accrue in-game currency. Then, use those funds for your gambling. The only investment will be your time, rather than your RL cash.
There is plenty else to do in MMOs. One more advantage of gambling in MMOs is that it is just one of the many activities you can enjoy in a virtual world. In fact, gambling in an MMO makes for a nice break from other aspects of the game. It is a great way to unwind after you have just participated in PvP combat or something else that has upped your adrenaline or demanded a lot of hard work, if you are in to gaming as much we are, read this new post on how Dennis Fong or "Thresh" was the first professional gamer.
MMO gambling can introduce you to casino games for the first time if you have never played at a regular casino before. You may find it easier to learn to play these games in a low-pressure environment where you can minimize or avoid risk. Later, you can start playing at real casinos.
What are the Cons of Gambling in MMOs?
Here are some of the disadvantages of MMO gambling:
Game selection is limited. There may be only a few different gambling games for you to play in an MMO. You might quickly find yourself growing bored with this limited selection. Contrast that with the hundreds of games you can find at online casino sites.
In the majority of cases, it is not possible to win real-life money when gambling in an MMO, even if you are funding your bankroll using real cash. One exception is Second Life, since you can convert your Linden Dollars to your own currency. Of course, this involves significantly more time and effort than simply withdrawing winnings from your bankroll at an online casino site.
There are no promotions. When you play at a real casino, whether it is online or offline, you can expect to receive promotional offers that give you more bang for your buck. Playing casino games in MMOs does not include this benefit. A lot of gamblers see bonuses as one of the big draws to gambling online, and do not want to miss out.
Some types of gambling in MMOs are pay-to-win. Not all forms of gambling that show up in MMOs are necessary positive experiences for players. Consider loot boxes, for instance, which are the subject of quite a lot of controversy. As explained here, loot boxes sometimes contain gear that provides players with an advantage. So, there is pressure to engage in microtransactions to try and stay competitive. Once you start buying loot boxes in the hopes of scoring some top-notch gear, you might find it hard to stop.
Alternatives to Gambling in MMOs
If gambling appeals to you, but you are not too keen on the drawbacks of MMO betting, what can you do? The best option is to open an account on an online casino like 배팅사이트. Doing so will give you the chance to access a much broader selection of games with impressive variety and exciting features. It also can qualify you to accept match bonuses on your deposits, free spins, and cash back through rewards programs. Best of all, you can play for real money.
Since not all online casinos are of equal trustworthiness or quality, it is important to read reviews before you open accounts and start depositing real money. You should also look up the background and licensing for the companies that operate websites you are thinking about joining. You will then be able to make an informed decision, and start playing pokies, table games and more at safe gambling sites in Australia or beyond.
John Romero and fellow id Software co-founder Adrian Carmack proudly announce BLACKROOM™, a visceral, varied and violent shooter
by MissyS
Good morning Internet! This piece was going to have a fair amount of analysis on the SPL this week, but a few things have set me back.
by Ragachak
WEBZEN, a global developer and publisher of free-to-play games, has announced the release of Season 9, MU Online's latest content update.
by Mikedot