Lineage 2: Revolution Celebrates Summer With New Swimsuits and Events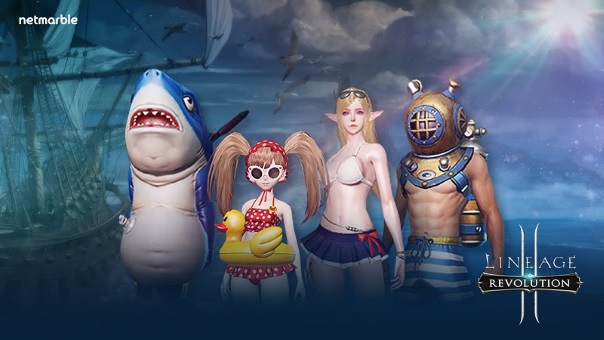 Starting today in Lineage 2: Revolution, players will be able to access new summer-themed content, including swimsuits, as they celebrate the summer. The outfits will vary depending on the character type: a scuba helmet/tank combination for Human, a cute two-piece for White Elf, a rubber duck floatie for Dwarf, or an inflatable shark bodysuit for Dark Elf to jump in the pool and enjoy the hot summer sun. In addition, Queen Ant's Cave clan dungeon will now have a "Very Hard" difficulty, and Class Transfer rewards are enhanced. Players will be able to receive a Grade SR Exclusive Weapon Selection Box as a reward for transferring their classes.
The update also adds four new in-game events, which provide extensive rewards for players until August 8. The Check-In event allows players to log-in for seven days and receive items necessary for leveling up equipment, including a Grade SR Armor Selection Box by the end of the seven day period. Herald's Love for Animal event provides players web content to acquire trackers that can be exchanged for various rewards. Furthermore, Aymel's School-Monster Collector event allows players to collect Monster Cores to complete quests to receive grade-specific rewards and additional rewards depending on the total number of quests completed. If that weren't enough, the entry level for "Hell Difficulty" of the Trials of Experience will be lowered (220 down to 190) during the event period, allowing even more players a chance to enter and receive amazing EXP rewards.
Neverwinter: Underdark will launch on Nov. 17 for PC and Xbox One in early 2016.
by MissyS
Genesis A.D open beta begins next week. The 3D sci-fi themed MMOFPS from ijji is finally releasing into open beta.
by Guest
Gunship Battle: Total Warfare released a new update from Joycity, the World War update. This update brings a massive-scale war.
by Ragachak