Path of Exile: Breach Launches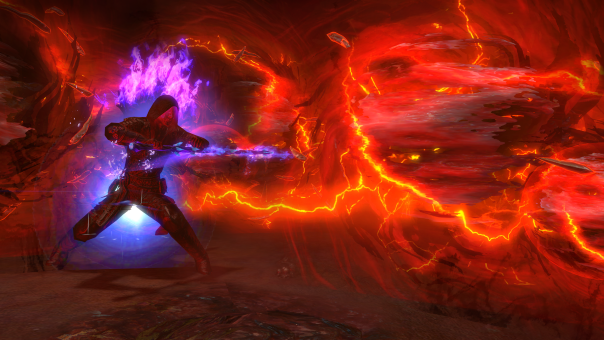 Grinding Gear Games has announced that its new POE update, Path of Exile: Breach, is now live.
Path of Exile: Breach includes Breach League, a Direct X 11/64 Bit Renderer, and many additional benefits (listed below). You can also learn more about the Breach update with our special hands on preview!
Chris Wilson, managing director for Grinding Gear Games, said:
We're really proud of the Breach challenge league. It creates tense situations where players have to weigh risk vs. reward. We're looking forward to playing it ourselves alongside the community when it launches this weekend.
Path of Exile: Breach Features:
Enter the Breach: Tears in the fabric of reality have formed throughout Wraeclast. Engage them to expose an alternate realm and reveal those who dwell there. Slay monsters inside the Breach to keep it open long enough to reap your bounty.
Challenge the Breachlords: Deep in the Breach, you may draw the ire of horrific new bosses: Breachlords. The more damage you inflict on them, the more treasure they'll part with during their escape.
Conquer a Breachlord's Domain: Among the riches found in the Breach, you may also encounter Splinters. Combine 100 Splinters of the same type together to create a Breachstone. When placed in the Map Device, a Breachstone allows travel into a Breachlord's Domain, the one place where they are truly vulnerable.
Treasures of the Breach: Monsters from the Breach drop new unique items that are specific to their Domain. When slain in their Domain, Breachlords can drop Blessings that allow these new uniques to be upgraded.
Performance Improvements: Content Update 2.5.0 includes the release of our new 64-bit Path of Exile client that uses DirectX 11. It's a lot faster than the previous version and includes technical improvements such as new fog and cloth physics systems.
Breach Supporter Packs: To celebrate the Breach league, we're launching two new Supporter Packs. These exist alongside our current Atlas of Worlds Supporter Packs and feature points, forum titles, portrait frames, a weapon effect, a portal effect and an entirely new type of microtransaction: Cloaks.
And Much, Much More! Alongside the Breach league and the new renderer, this update also includes many other changes such as piles of new Unique items, a new Channelling Support Gem, Unique Golem Jewels, a revamped Forsaken Master levelling experience (with many usability improvements) and graphical improvements to early Act One areas.
Next Article
Runescape has announced a bonus XP weekend to start on Friday, March 16. It will end on Monday, March 19.
by MissyS
Eyedentity Mobile vastly increased the pre-registration package
by DizzyPW
MapleStory M officially unleashes the mighty Dragon Master Evan today, and with him comes fun holiday content.
by Ragachak