Vainglory Team Franchise Program Announced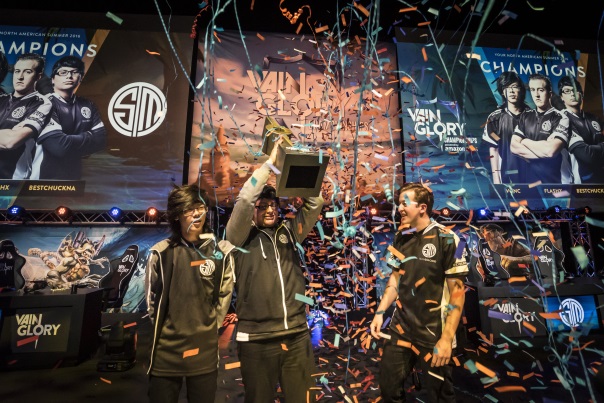 Following a year of rapid esports growth, Super Evil Megacorp will introduce the Vainglory Team Franchise Program in 2017, which will see the company work closely to align interests and share revenue with professional Vainglory teams from around the world, ensuring a healthy esports ecosystem. The program also gives those teams a voice in building a positive, sustainable network for Vainglory esports. Vainglory has already attracted professional esports teams from around the world including TSM, C9, Team Secret, SK Gaming, G2 Esports, Mousesport and more. The franchise program is part of of Super Evil's commitment to growing its esports infrastructure, ensuring that all parties have an equal share in the future success of the competitive scene.
Franchise holders will be entitled to a share of revenue from broadcast rights, ticket sales, sponsorships or other esports activities. The parties will also collaborate on digital and physical merchandise sales and other ways to build the business of the franchisees. Unlike many franchise programs, Vainglory franchisees are not guaranteed a spot in the top competition. Instead the parties will collaborate on building a deep, healthy, growing competitive ecosystem.
The Vainglory Team Franchise Program will initially kick off with eight partners and refresh its structure annually as the esports landscape grows and evolves. As part of the new program, which aims to extend the dream for new players to succeed in Vainglory, teams will have the option to establish a home city. The home city program will enable teams to connect with the local fan community and players, through events and local pride, including hosting LAN parties and attending viewing events.
Andy Dinh, Team SoloMid (TSM), said:
Super Evil Megacorp has done a remarkable job at taking a virtually home-grown competitive community and elevating it to a professional esports structure in just a year, complete with team voices, sensible financial models and a fresh way to approach local communities. The new TSM Vainglory house in Las Vegas is a great example of how the community has grown over the last year and we can't wait to help shape the future of esports with the leader of the touchscreen category, Super Evil.
Partner teams will help shape the future of Vainglory esports by forming a governing advisory council that will review changes to both the competitive structure and gameplay as they are proposed by Super Evil Megacorp. Changes to scheduling, league format, picks, bans, hero balance and more will entail a consultation period with Franchise holders before being introduced. Teams have until January 15 to apply to the program, which will take effect in the spring season of 2017. .
During 2016 the Vainglory esports community has grown immensely with Super Evil inking a multi-million dollar, three-year partnership with Twitch to build out its live events, as well as a platinum sponsorship with the Amazon Appstore to produce the Summer Season Championships. To further showcase Vainglory's growth, top level esports organizations have acquired Vainglory teams including Team SoloMid, Cloud9, G2 esports and Team Secret.
The capstone to Vainglory's impressive year in esports will be the first-ever Vainglory World Championship from December 2- 4 at the legendary TCL Chinese Theatre in Hollywood, CA. The event will serve as the culmination of the competitive year in Vainglory, with 12 of the regional champions from North America, Europe, South America, East Asia, China and Southeast Asia battling for the title of World Champion. This will be the first World Championship event to be held for a mobile game. Tickets are available at Eventbrite here.
Next Article
A few weeks back, I got a chance to see the changes coming to ArcheAge for update 4.5, and there's some really big stuff on the way!
by Ragachak
Potato Killer Studios has revealed details today on the game's progression and balance systems in a new developer diary.
by MissyS