Boxing Star Introduces New Hell-Themed Update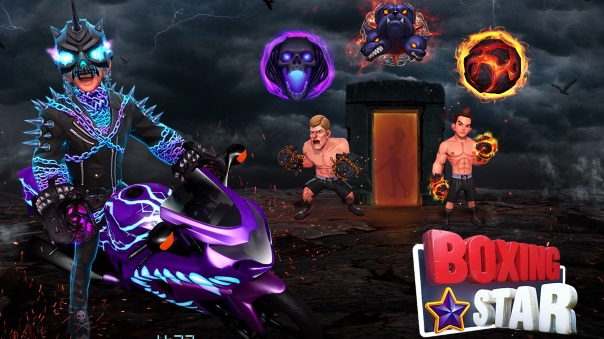 FourThirtyThree released a new update to their mobile sports title Boxing Star, with a decidedly infernal theme.  Three new MegaPunch Gloves come in this update, a motorcycle, as well as hell-themed costumes. The new gloves are Cerberus, Inferno and Reaper, each of them wielding the power of a hellhound, magma, and the spirits of the dead. MegaPunch Gloves contain special skills, letting players with fully-charged Hyper Gauges unleash massive attacks.
"Duke Hellentine" is a nice appearance players can utilize with the newly added costumes. It comes in a four-piece costume to show off the look of a chained wraith. This update also introduces the new F14 Hellraiser Sports Bike. This sports bike helps players reduce the delivery time of packages by 30 minutes like other Wheels vehicles in the game. Otherwise, it can simply stay parked in the background of the game as nice decoration. The new sports bike is free for 30 days to celebrate the update.
Check out how skill trees work with more info, including a new video, from InnoGames.
by MissyS
BANDAI NAMCO Games America Inc. has gone back to the shop to design a new major content update for Ridge Racer Slipstream, a fast-paced compet...
by Mikedot