CCP Games Partners With Hadean For 10,000 Player Deathmatch in EVE: Aether Wars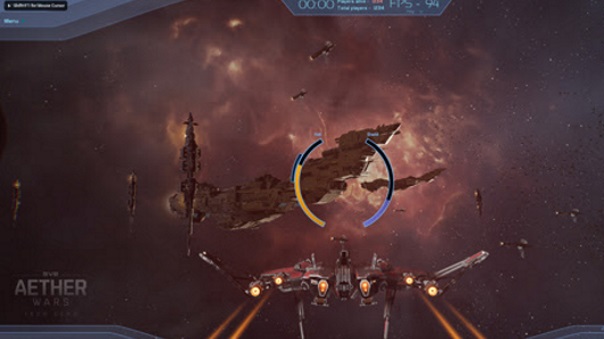 CCP Games is proud to partner with Hadean, the creator of Aether Engine for an incredible tech demo. Hadean is partnered with CCP Games for EVE: Aether Wars, which will explore opportunities for large-scale multiplayer simulation in CCP's games. Aether Engine is the world's first distributed simulation engine, that lets players create cloud-native games with unprecedented gameplay possibilities. This will have its first public showing during GDC 2019 as Aether Wars, which is a real-time 10,000 player space deathmatch.  Players interested can click the link below to participate.
The EVE: Aether Wars tech demo will be followed by a lightning talk from CCP Games' CEO Hilmar V. Pétursson and hosted by Hadean. 'Emergent Game Design: What has CCP learned over the years?' will take place at Stand S366 at 11:00 PST on Wednesday 20 March. CCP will provide EVE Online and EVE: Valkyrie assets to use in Aether Engine as well. This will let Hadean focus on the actual development of large-scale online environments.
"We are thrilled to have the support of CCP Games with EVE: Aether Wars," said Craig Beddis, Hadean's CEO. "This move allows us to focus on our strength – building technology that unlocks new creative possibilities for games developers. We have a world-class team of engineers at Hadean creating EVE: Aether Wars and CCP's expertise ensures that we have the perfect partner to match the pioneering ambition and robust quality of our technology."
"Hadean's technology has the potential to unlock huge creative and design-orientated freedom within virtual worlds such as EVE," said Hilmar V. Pétursson, CCP Games' CEO. "We are very happy as always to join up with intrepid pioneers setting out to push the boundaries of what is possible. Continuing to do that I believe will bring about the conditions where EVE will outlive us all. We therefore embrace the chance to inject New Eden into the Aether Engine and create the stunning sci-fi spectacle EVE: Aether Wars. I for one am excited to see our internet spaceships from EVE Online and EVE: Valkyrie playing together, enabled by this cutting-edge technology!"
Next Article
Today, Warner Bros. Interactive Entertainment released two new Champion Profile videos for Infinite Crisis. The new videos give fans an in-dep...
by MissyS
Today, the European edition of Lineage 2 will receive two major updates, Salvation and Antharas.
by Ragachak
Perfect World Entertainment has announced the release of the Summer Content Update for Jade Dynasty.
by MissyS