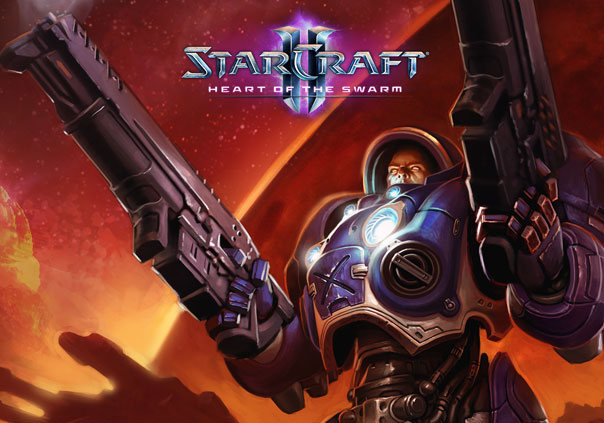 StarCraft II is a free-to-play science-fiction real-time-strategy game, building on the success of the original StarCraft. Players choose one of three races in deep space and do battle across planets in real-time, managing resources and armies simultaneously. Unlike the original StarCraft, StarCraft II is released in three parts, each containing only one race's single-player campaign; however the game's multiplayer has been fully unlocked from the start. Each campaign requires a game purchase to fully play; however, StarCraft II also offers the "Starter Edition," a free to play option which grants limited single player missions and Terran-only multiplayer.
This installment to the StarCraft franchise once again allows players to participate in the extensive community they've formed and love. Players can join up with Guilds and participate in multiplayer matches to test their strategic mindset and efficiency. Race against other players to acquire resources and use them to create a true force to be reckoned with before your opponents can wipe you out.
See if you can attain ultimate victory in Starcraft II!
Main Expansions:
Starcraft II: Wings of Liberty – Includes the Terran campaign for the game.
Starcraft II: Heart of the Swarm – Includes the Zerg campaign for the game.
Starcraft II: Legacy of the Void – Includes the Protoss campaign for the game.
Mission Packs:
Nova Covert Ops – A series of 9 new missions released over three installments that take place a few years after the epilogue of Legacy of the Void.
Status: Released
Release Date: Jul 27, 2010
Business Model: Free to Play
Developer: Blizzard Entertainment
Publisher: Blizzard Entertainment
Category:

Stand-alone

Genre(s):

3D, Sci-Fi, Strategy

Platforms:

PC, Mac


Pros:

+Wonderful graphics.
+Solid single player story missions.
+Extremely balanced multiplayer.
+Stat Tracking.

Cons:

-Extreme learning curve.
-Graphically intensive for an RTS.



Recommended System Requirements:

OS: Windows XP / 7 / 8, OSX 10.8 or later
CPU: Intel Core 2 Duo E6600, AMD Athlon 64 X2 5000+ or better
RAM: 4GB
GPU: NVIDIA GeForce 8800 GT, AMD Radeon HD 4850 or better
HDD: 20GB



Description: Explore the incredibly popular sci-fi real time strategy game Starcraft 2. Buy the full game, or get a chance to play through some of the Terran single player campaign before going online and conquering real opponents in a free trial.
Daum Games has just opened Beta sign-ups for Black Desert Online on the official website.
by MissyS
After much anticipation Albion Online opened servers for the start of the Summer Alpha today at 12:00pm CEST (06:00am EDT).
by MissyS
The first Total War™: ATTILA downloadable content from the 'New Content Team' at Creative Assembly, The Longbeards Culture Pack, brings ...
by Mikedot