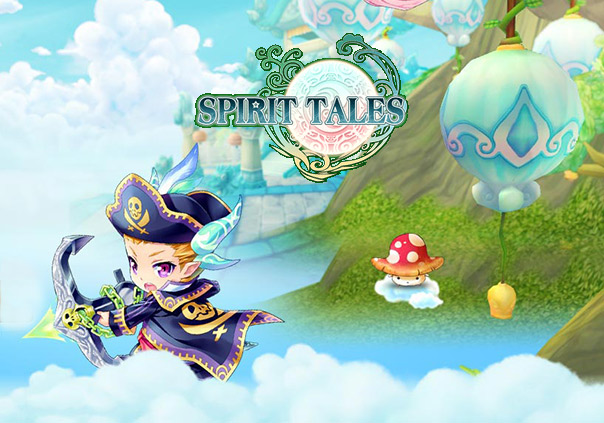 Spirit Tales is a fantasy MMORPG by KoramGame where players embody a variety of chibi-style characters from different nations (and races). Each race has its own set of classes, and each class has its own "spirit transformation" power which transforms them into their associated animal (Fox, Dragon, Kirin), while giving a variety of bonuses. One of the game's selling points is its chibi, casual style, and it shows. Spirit Tales offers players a well polished product, a lot of pretty things to look at, and a variety of interesting features on the side, including achievements and pets. On the other hand, the gameplay will not please everyone as it includes a great deal of repetition, and is ultimately similar to many other games out there. The classes are:
Fighter – The fighter is Spirit Tales' close range damage dealer, wield a variety of elemental powers, while lacking the Warrior's armor. A solid balanced class.
Shaman – This is the main support class, focusing on healing and buffing, though nonetheless having some minor combat abilities.
Archer – The archer is a long range, lightly armored damage dealer, playing a role similar to the sorcerer.
Warrior – The close-combat defensive class, meant for tanking damage and then dishing it back out. They wear the heaviest armor obtainable.
Sorcerer – Spirit Tales' only dedicated magical damage, long range class with a focus on the elements.
Assassin – While it lacks the general capabilities of the Fighter, the Assassin excels at focused close combat damage dealing, but is restricted to light armor.

Status: Released
Release Date: Feb 18, 2012
Business Model: Free to Play
Developer: X-Legend
Publisher: KoramGame
Category:

Stand-alone

Genre(s):

3D, MMO, RPG, Fantasy

Platforms:

PC


Editor's Score: 3/5

Pros:

+Chibi-style, cheerful graphics.
+Animal transformation system.
+Pet collection system.

Cons:

-Unoriginal, straightforward and repetitive gameplay.
-Few abilities/spells.



Recommended System Requirements:

OS: Windows XP SP 3 / Vista / 7 / 8
CPU: Intel Pentium 4 3.0 GHz / AMD K8 3000+
RAM: 2 GB
GPU: nVidia GeForce 6600 / ATI Radeon X 1600
HDD: 4 GB



Description: Set in a fictional fantasy universe, Spirit Tales lets you play six different classes divided into three different races, each having an animal form with a variety of bonuses of its own.
has launched a summer event titled "GAMES OF WEBZEN" on its global game portal, Webzen.com.
by MissyS
Funcom announces its first boosted scenario weekend for The Secret World.
by MissyS