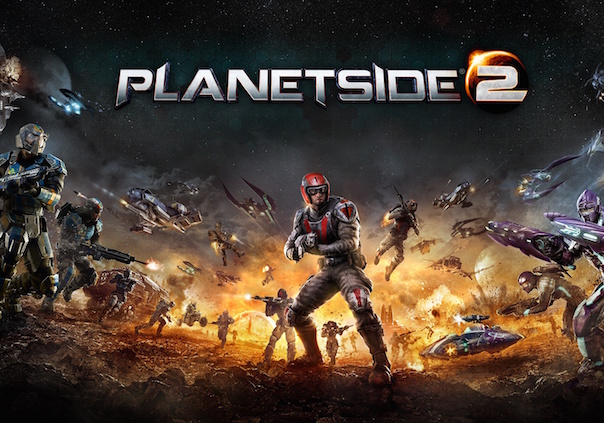 In Planetside 2, players take place in a massive planetary war as member of one of three empires. This free-to-play first person shooter/MMO hybrid is available on PC and PS4
Features
Three Empires: Players will have their choice to join three different empires:
►Terran Republic – With a militaristic government, the Terran Republic uses its Imperial authoritarian might to impel humanity to peaceful coexistence through any means necessary.
►New Conglomerate – A loosely connected group of rebel factions and idealistic freedom fighters, the New Conglomerate fights against the hegemony of the Terran.
►Vanu Sovereignty – A technocratic faction that believes humanity can only evolve by rediscovering and tapping the lost technology of the Vanu.
Classes
Choose from Light Assault, Heavy Assault, Combat Medic, Infiltrator, Engineer, or MAX (Mechanized Assault Exosuit)
►The core gameplay of PlanetSide 2 is about holding key territories and controlling valuable resources. Each battleground holds valuable resources and key positions, and the empire that can conquer (and manage to hold) these territories will be rewarded with fuel bonuses, ammo bonuses, tech bonuses, and more.
► Battles will take place not between dozens of troops, but hundreds; with air and ground vehicles slugging it out alongside squads of troops. Whether in open fields, tightly-packed urban centers or enormous structures, winning will require strategic teamwork and a quick trigger finger in the massive battles.
►In Planetside 2 battles will last longer than a match timer. Battles will last for days or weeks, and finally taking control of the base means it's yours until someone can take it back. Working strategically as a team to capture key tactical positions such as power plants and ammo depots will have long-lasting effects that can shift the tide of battle.
►PlanetSide 2 will launch with several continent maps; every inch of which will be contestable space. With the new territorial control meta-game, landmass will have intrinsic value even without notable installations or major features.
►Outfits (guilds) will also be able to customize themselves – allowing outfits to have their own identity, reputation and role in the ongoing war.WEAPONS: Players will be able to access more than 20 basic weapons, which can be customized to players' preference or purpose.
Status: Released
Release Date: Nov 20, 2012
Business Model: Free to Play
Developer: Daybreak Game Company
Publisher: Daybreak Game Company
Category:

Stand-alone

Genre(s):

3D, MMO, Sci-Fi, Shooter

Platforms:

PC, PS4


Editor's Score: 3/5

Pros:

+Incredibly large scale combat.
+Vehicular Combat.
+Dynamic Day & Night Cycle.
+Multiple Post-Launch Updates.

Cons:

-Not Casual Player Friendly.
-Stiff Advancement.



Recommended System Requirements:

OS: Windows 7, Windows 8
CPU: Intel i5 processor or higher / AMD Phenom II X6 or higher
RAM: 8 GB
GPU: nVidia GeForce GTX 560 series or higher / AMD HD 6870 or higher
HDD: 15 GB



Description: PlanetSide 2 is a Massively Multiplayer first person shooter developed by Daybreak Game Company that delivers truly epic, massive combat with thousands of players.
Due to developer's difficulty, JC Planet decided to stop its service for Legend of Silkroad on December 31st, 2014, Also, forum and the webs...
by Mikedot
G4Box, a leading North American free-to-play game publisher, announced today the official commercial launch of its new free to play browser ba...
by MissyS