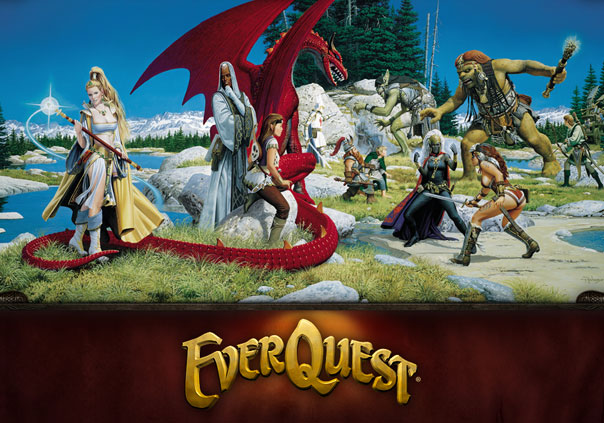 Established in 1999, and one of the longest running 3D MMORPGs in existence, EverQuest was the standard by which MMOs were judged until the coming of World of Warcraft in 2004. It recently had its 20th birthday, and still has an active player base to this day.
Features
►20 years of MMORPG history, 10,000 active guilds across multiple servers, and a wide variety of content.
►Alternate Advancement allows you to specialize your character by spending experience points not on gaining levels, but on particular bonuses.
►Progression servers allow you to experience the game as it evolved over two decades.
Races
Barbarian, Dark Elf, Drakkin, Dwarf, Erudite, Froglok, Gnome, Half-elf, Halfling, High Elf, Human, Iksar, Ogre, Troll, Vah Shir, Wood Elf.
Classes
Bard, Beastlord, Berserker, Cleric, Druid, Enchanter, Magician, Monk, Necromancer, Paladin, Ranger, Rogue, Shadow Knight, Shaman, Warrior, Wizard.
Expansions
EverQuest has been in continual development throughout its 20 year history, despite having transitioned into a free-to-play game. In order of release, its expansions are:
Ruins of Kunark (2000), The Scars of Velious (2000), The Shadows of Luclin (2001), The Planes of Power (2002), The Legacy of Ykesha (2003), Lost Dungeons of Norrath (2003), Gates of Discord (2004), Omens of War (2004), Dragons of Norrath (2005), Depths of Darkhollow (2005), Prophecy of Ro (2006), The Serpent's Spine (2006), The Buried Sea (2007), Secrets of Faydwer (2007), Seeds of Destruction (2008), Underfoot (2009), House of Thule (2010), Veil of Alaris (2011), Rain of Fear (2012), Call of the Forsaken (2013), The Darkened Sea (2014), The Broken Mirror (2015), Empires of Kunark (2016), Ring of Scale (2017), and The Burning Lands (2018)
Microtransactions
Loads. From cosmetics to "all access subscription" which includes pay to win elements, Daybreak Games makes its money on EverQuest
Status: Released
Release Date: Mar 16, 1999
Business Model: Free to Play
Developer: Daybreak Game Company
Publisher: Daybreak Game Company
Category:

Stand-alone

Genre(s):

3D, MMO, RPG, Fantasy

Platforms:

PC, Mac, Steam


Pros:

+Incredible amount of variety in character creation and quests.
+Good tutorial.
+Unique 'Faction / Deity' system.
+Good Music.

Cons:

-Combat and overall gameplay feels incredibly slow paced.
-Dated interface.
-Combat animations look clumsy.



Recommended System Requirements:

OS: Windows XP, Windows Vista, or Windows 7
CPU: Pentium® 4 equivalent or greater
RAM: 2 GB
GPU: NVIDIA 6800 or ATI x1800
HDD: 15 GB



Description: EverQuest is set in the enormous fantasy world of Norrath and has a whopping 15 unique classes and 16 different races. On top of that, players can choose from one of 17 deities to further customize their character.
As Reuters reported on Monday, the Internet retailer giant Amazon has purchased streaming site Twitch for $970 million.
by MissyS
The past week I have been fighting all sorts of battles, ones that can only be solved with a proper gun and enough ammo.
by Proxzor
Infernum announces its rights to publish Hazard Ops in Europe, an intense third-person action shooter.
by MissyS