EverQuest to Host Exhibit at Comic-Con Museum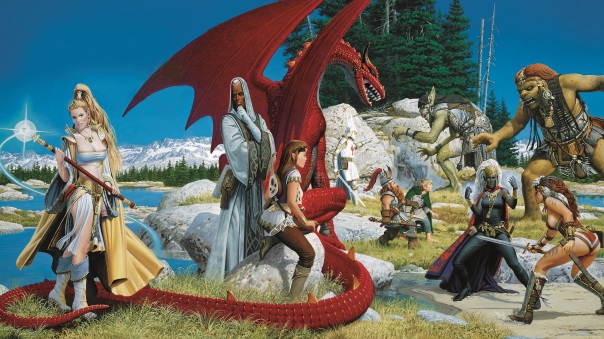 Daybreak Games and the Comic-Con Museum announced they will host "EverQuest 20: A Living Legend" this month. The event will occur from April 27th through April 28th (Saturday and Sunday), to celebrate the franchise that popularized MMORPGs 20 years ago. In addition to showing off original art, the exhibit will be accompanied by special programs and panels, which are listed below.
The event will be hosted at The Comic-Con Museum's future home in Balboa Park (2131 Pan America Plaza, San Diego, CA 92101). The original art, concept work, and other key items will be arranged into a community-focused EverQuest timeline, spanning two decades of active development and gameplay. The Museum gallery will feature original oil paintings by renowned fantasy artist and illustrator Keith Parkinson, the first game design document by Brad McQuaid, and original box art. Attending fans will also be invited on an EverQuest adventure inside the museum where they will solve challenges to receive exclusive rewards.
"EverQuest changed the face of MMORPGs and continues to evolve as we remain committed to delivering fantasy content to our loyal fans," said Holly Longdale, Executive Producer of EverQuest. "We can't wait to transport them on an art journey through the game and share their memories with other players who have also loved EverQuest for the past 20 years."
"We are looking forward to welcoming the EverQuest community to the future home of the Comic-Con Museum and celebrating this incredible milestone in gaming history," said Adam Smith, Executive Director of the Comic-Con Museum. "We can't wait to commemorate this special moment with the developers and fans who have kept the world of Norrath alive and thriving for 20 years."
Activities for the weekend will include*:
10 AM – 4 PM: EverQuest 20: A Living Legend: Exhibit Hall Open.
11 AM: Exploring the World of Norrath: Join game developers as they introduce EverQuest and explore 20 years of evolution and expansion in the world of Norrath.
1 PM: Living the Legacy: Senior members of the EverQuest development team will describe what it is like to work on the game they once played, exploring how their ongoing efforts ensure the game and its community continue to thrive.
2 PM: Developer Signing: Members of the EverQuest team will be signing and distributing exclusive EverQuest 20 posters featuring the game's original key art from 1999.
2:30 PM: Fan-Made Experiences, Community Forum: Join active members of the EverQuest Community as they explore and discuss the experiences that have defined 20 years of gameplay. The audience will have an opportunity to share their stories as well!
*Note: Schedule Subject to Change
With the release of U24's Heart of Madness, Dungeons and Dragons Online flings open the gates to Xoriat, the Realm of Madness, home of th...
by Guest
The latest Legacy of Discord - Furious Wings update will offer some new content, such as the Class Change System.
by Ragachak
The Pokémon Company and Niantic, Inc., today revealed new details about their upcoming mobile release, Pokémon GO.
by MissyS