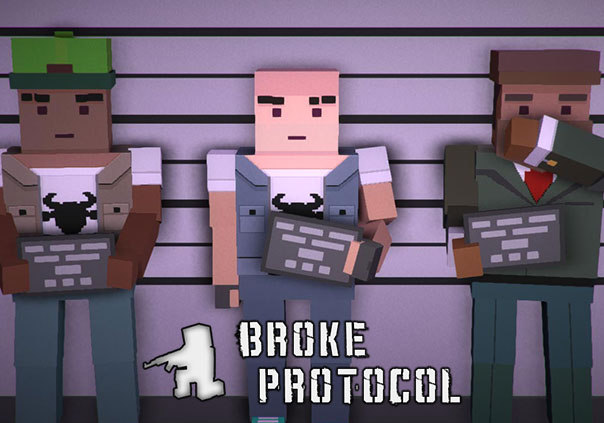 Broke Protocol is an upcoming city life sandbox RPG developed by Cylinder Studios for PC, Mac, and Linux. In Broke Protocol players can roleplay as a criminal alongside hundreds of players and NPCs in an ever-growing, open world city!
The game functions like a low-poly GTA Online. Whether you want to sell items on the black market, rob and kidnap others, or hold elaborate bank heists Broke Protocol has you covered. Players are free to customize their characters and lead them down the life of crime of their choosing. Don't think crime is the only choice for you though! You can also become a vigilante or law enforcer and try to bring the criminal scum of the city to justice. Some might even choose to become a paramedic or firefighter.
As you play you will need to manage different things like your hunger, thirst, stamina, and even addiction levels. There are a vast number of ways to gain wealth and power, but all of the money in the world won't do you any good when you can't easily fuel your addictions or keep yourself healthy.
The weapons you come across can vary in shape, size, and even intended function. Everyday household items can serve as the most deadly of weapons in a time of need, but who wouldn't prefer a nice firearm purchased from the black market or a taser just for the fun of watching your enemies squirm as they're being zapped? Even vehicles can become weapons of mass destruction if you're a skilled enough driver and master their handling.
No matter the situation, make sure you're prepared. The city is rampant with both dangerous criminals and the good doers trying to bring them in. Which are you going to be? Make your choice in Broke Protocol!
Status: Pre-Release
Business Model: Free to Play
Developer: Cylinder Studios
Publisher: Cylinder Studios
Category:

Stand-alone

Genre(s):

3D, RPG, Shooter

Platforms:

PC, Mac, Linux



System Requirements not yet known.


Description: Broke Protocol is an upcoming city life sandbox RPG where players can become a devious criminal or good doer trying to bring justice to the city. You're completely free to earn your living however you'd like, but just make sure that it doesn't get you killed!
The latest Legacy of Atlantis Patch Notes have been revealed, and with it come four new heroes - The Beastkin.
by Ragachak
Available for machines of all tiers and balancing weights, with the exception of Japanese and Chinese tanks, the new experimental combat mode,...
by DizzyPW
Rather than give up and scrap the title, they decided to take it to Kickstarter to raise funds to replace all of the Sega-owned trademarks (th...
by Mikedot