Bless Online Announces New Dungeons and Events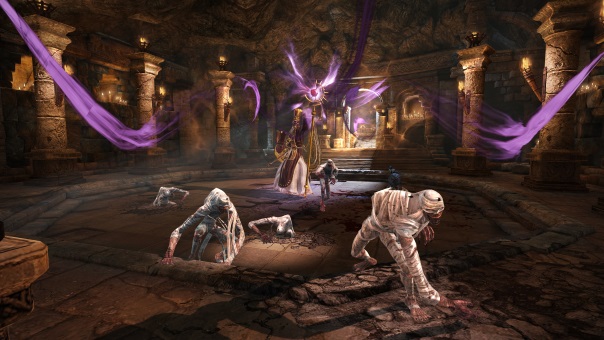 Bless Online announced that on January 9th, a new update is coming to the MMORPG, and with it come Sapiens Mausoleum (Elite). This level 50 dungeon recommends a party of five and has an entrance limit of once per day. It can be found in the Wise One's Ruins inside the Elemental Forest (both factions). Liche Tiberius is the final boss and crafting materials, Rare Spirits, a legendary helmet, and much more await within this mausoleum. Bless also announced their first in-game event, which is the Basel Gorge Certificate of Valor Event. After January 9th's maintenance, players will receive Certificates of Valor when they defeat monsters in the Basel Gorge, or when they complete Basel Gorge daily quests. Players can then use the Certificates of Valor to craft a variety of gift boxes. Gift boxes also have a chance to drop directly from defeated monsters in Basel Gorge. Gift boxes may contain buff effect foods, weapon skins, temporary flying mounts, or various enhancement materials.
On January 9th, the Special Currency Shop will be getting an update with some new items, including Anima Random Boxes, Ruru Brother's Magic Pocket (The resource dungeon turban item), and portable NPC summoning items called Popochita On-Demand Service (single use and permanent item versions for summoning the Market, Personal Chest Manager, General Merchant, and Blacksmith). In addition, we are adding a "Hat" tab to the Special Currency Shop with six new hats for players to purchase and wear. Nine new costumes will also be added to the Special Currency Shop, including the viking set pictured below, and the Snowfield Buffalo Set, the Charging Drakaru mount skin, and the Walking Lollo pet skin.
This month, players can get their hands on the closed beta for Guns and Robots, Masthead Studio's newest free-to-play title.
by MissyS
Krealit announces the release of Guns´n´Zombies action game on Steam Early Access. In addition to captivating and dynamic battles with horde...
by Mikedot
The River King is ready to troll Riot Games' hit MOBA, League of Legends!
by DizzyPW