UPDATE: This game has been shutdown and is no longer available
Yu-Gi-Oh! Online: Duel Accelerator is a 2D trading card game (TCG) MMO. Players start with a collection of cards and must design their own duel monsters deck with which to to defeat opponents! Yu-Gi-Oh! Online faithfully reproduces the physical card game mechanics and allows players from across the world to duel one another.
Publisher: Konami
Playerbase: Medium
Graphics: Medium Quality
Type: MMO TCG
EXP Rate: Low
PvP: Duels
Filesize: 836 mb
Pros: +Duel other players and AI opponents. +Participate in tournaments. +Card trading system. +Plenty of appearance customization options.
Cons: -Must pay for booster packs and premade decks. -Players start with lousy cards. -Poor English translations.
Free Trial Restrictions: Booster packs and premade decks must be purchased.
Overview
Yu-Gi-Oh! Online Overview
Yu-Gi-Oh! Online: Duel Accelerator is the official online version of the famous card game franchise. Players start with a handful of cards, enough to make a basic deck, but must purchase booster packs and pre-made decks using real cash. There are several NPC opponents to duel, but the main attraction is the ability to play against other duelists and participate in tournaments. Yu-Gi-Oh! has an international playerbase and Duel Accelerator helps them connect. Besides purchasing cards, players can customize the appearance of their avatar, chose different deck protectors, and trade cards. It is possible to exchange cards with an NPC shop keeper, but he demands 50 cards for one of his cards. Unfortunately, this seems to be the only free way to acquire more powerful cards.
Yu-Gi-Oh! Online Screenshots
Yu-Gi-Oh! Online Featured Video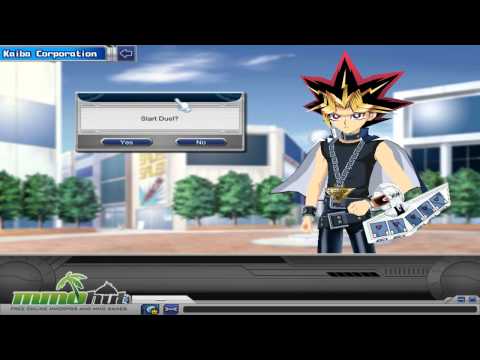 Full Review
Yu-Gi-Oh! Online Review
Coming soon…
Screenshots
Yu-Gi-Oh! Online Screenshots
Links
Yu-Gi-Oh! Online Links
System Requirements
Yu-Gi-Oh! Online System Requirements
Minimum Requirements:
OS: Windows XP / Vista / 7
CPU: Atom Processor N270
RAM: 1 GB
HDD: 2 GB Free
Graphics Card: 128 mb, DirectX 9.0c compatible
Recommended Specifications:
OS: Windows XP / Vista / 7
CPU: Pentium 4 2.80GHz or better
RAM: 2 GB or more
HDD: 2 GB Free or more
Graphics Card: 128 mb, DirectX 9.0c compatible or better