SMITE Patch Note Preview: Written in Stone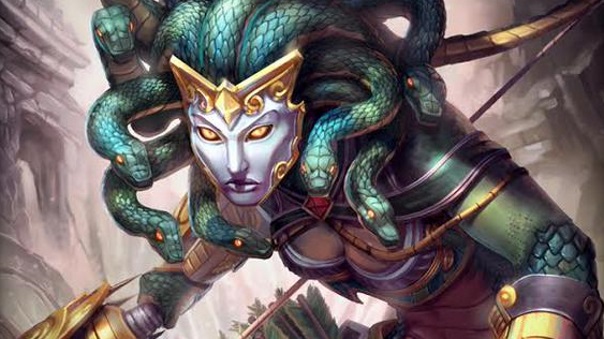 Hi-Rez has released the patch notes for "Written in Stone," SMITE's upcoming patch that introduces a new goddess: Medusa.
Medusa's Abilities are:
– Sidewinder – Passive: Medusa suffers no movement penalty when side strafing and half of the movement penalty when moving backward.
– Viper Shot: Medusa shoots out 3 vipers in rapid succession that poisons the targets hit dealing 10/18/26/34/42 (+30% of your Physical Power) as damage every 0.5s for 1.5s. Cooldown 10s. Cost: 40/45/50/55/60.
– Acid Spray: Medusa hurls back and spits out a ball of acid deals 120/180/240/300/360 (+70% of your Physical Power) as damage and slows the attack speed of the first target hit by 20/25/30/35/40% for 3s and sprays out acid in a cone behind them dealing 75% of the damage to every enemy hit. Cooldown 14s. Cost 70/75/80/85/90.
– Lacerate: Medusa quickly slithers forward grabbing and slashing the first enemy she gets to dealing 120/150/180/210/240 (+80% of your Physical Power) as damage. The slash leaves the enemy reeling in pain, reducing their healing by 10/20/30/40/50% for 3s. Cooldown 15s. Cost 85.
– Petrify: Medusa removes her mask revealing her true face, delivering a powerful blast from her horrifying Gorgan gaze. Enemies Take 300/400/500/600/700 (+100% of your Physical Power) as damage and are stunned for 2s if they are looking at Medusa. Enemies not looking at medusa take half damage and are slowed by 50% for 3s. Enemy gods that are killed by Medusa's gaze will turn into a stone statue and remain behind as a reminder to others. Cooldown 110/100/90/80/70. Cost 100.

As always there are more new skins and voices, but of special note is a rework to the clan system which will let clans level up and (eventually) earn special unlocks!

You can find the full patch note preview here.
Next Article
Citadel Studios announces the launch of Alpha for Legends of Aria, previously Shards Online.
by MissyS
So let's get down to Mechanic Simulator 2017. . . I mean, Dead by Daylight.
by Ragachak
Today, Ubisoft released a major update for The Mighty Quest for Epic Loot, bringing defense crafting to Opulencia in an effort to bring more v...
by Mikedot