Soul Seeker: The 6th Knights Ready to Soft Launch in the Philippines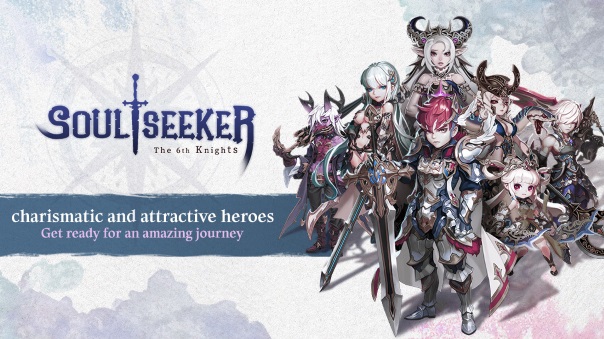 After the global success of the first episode of Soul Seeker, Clegames is proud to release mobile game Soul Seeker: The 6th Knights. It is now available in the Philippines for free on the App Store and Google Play, and will launch globally on November 1st, 2018.  The heroes from the first version are back, with a focus on improved gameplay and more intense, strategy-oriented battles. The continent of Hermes was destroyed in a war between the five gods that created this world, and five orders of knights have emerged from the rubble of war. They all seek the five Soul Stones, which are said to contain the power of the gods themselves. With them, they could take over Hermes and rule all life. The players will embark on a journey with the 6th Order, the Albion Knights, to retrieve the Soul Stones before Evil find them and save Hermes from destruction.
In Soul Seeker: The 6th Knights, players compose a team of three main heroes and three supporting heroes from the 150 characters in the game. Heroes also have attributes now (Fire, Water, Air, Light, Darkness) to allow players to target weak points and create new tactical possibilities. Soul Seeker: The 6th Knights presents various challenging play modes where players can fight the
Evil of the Devil's Dungeon to collect runes and battle in the Temple of Hermes to earn gems and other precious items. Along with these intense PvE dungeons, players can also compete in thrilling
PvP Arenas or choose to go on an adventure on the Story mode.
The controls have also been improved in Soul Seeker: The 6th Knights, with the new Touch and Drag System which allows players to position their team at will and precisely direct their attacks, and also introduced a Tag System. This lets players summon their support heroes and interchange them with the main heroes to make new, spontaneous teams and march towards victory.
Next Article
The weather outside might be frightful, but Sony Online Entertainment (SOE) is bringing forth some game features that are quite delightful!
by MissyS
Today, CCP Games deployed the latest update to DUST 514®, entitled Uprising 1.8, delivering the biggest battle-changing elements to immortal ...
by MissyS