PUBG MOBILE Gets Spooky With Halloween Update & Night Mode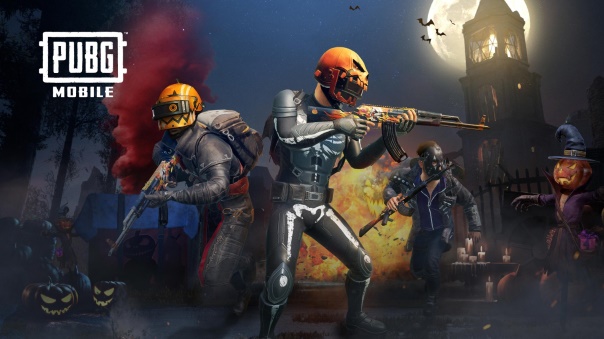 All Hallow's Eve has passed, and PUBG MOBILE brought new thrills and chills to the game in version 0.9.0.
The update, which launched October 25, introduces Night Mode to the Erangel map. During Classic Mode, the map will alternate randomly between Day and Night, bringing new unpredictable changes to the battlefield as the darkness obscures vision. A new item is also available to aid players in their hunt here: the Night Vision Goggles! Get your hands on these visual aids and you're bound to have better luck surviving during the Night.
PUBG MOBILE is also getting into the Halloween Spirit with a few special visual effects. Spawn Island has gotten a festival makeover, and players can use the plethora of pumpkins and candies found here to interact with each other. Players may also notice a terrifying face in the explosion of grenades, and enemies killed by the Hellfire-AKM will turn into scarecrows! As a bonus, during this festival, players will have a 50% chance of activating Night Mode.
There's even more changes in this latest update, so make sure to visit the official event page for the full details.

Meanwhile, in the real world, a special event took place in Father Duffy Square (New York Times Square) on October 28! A giant PUBG MOBILE crate and a pumpkin car covered in Halloween decals was at the square, and brand ambassadors gave out PUBG MOBILE goodies, including mini-crates of candy, themed socks, and keychains from the crate. The most coveted premium items had to be earned by taking a picture in front of the crate and sharing it on social media.
Another event ongoing is the PUBG Mobile "Scream Challenge" game that is playable on Android phones and tablets. The goal of the game is to defeat as many zombies as possible before they reach you. Players must scream into their devices as the zombies approach in order to kill them. The top 13 scores of the day will receive a Samsung Galaxy S9 phone.
We hope you have a safe and spooky Halloween in PUBG MOBILE!
This post is sponsored by PUBG Mobile.
Final Fable is an action RPG for Android that features stunning art work and an innovative fighting system.
by MissyS
BANDAI NAMCO Entertainment America's free-to-play flight-shooter game, ACE COMBAT Infinity, brings players Update 11 today!
by MissyS
The Grinch is taking a little detour from sacking Who-ville to visit the Panda Pop dojo this December.
by Ragachak