Marvel Contest of Champions: New Game Update Available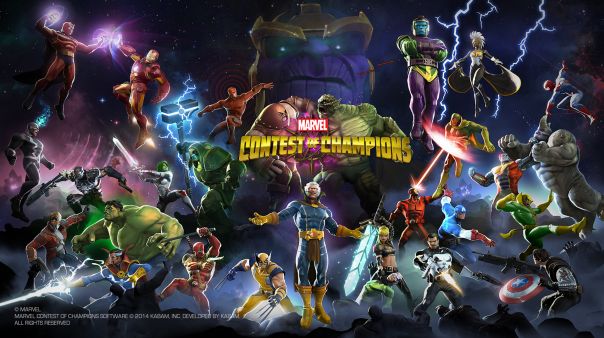 Today, Kabam released new game content for its hit Marvel Contest of Champions mobile game, inspired by the highly anticipated Marvel's Avengers: Age of Ultron film hitting theatres on May 1, 2015. The Marvel Contest of Champions Ultron update features exclusive Ultron-themed content throughout the game and special in-game events and arenas. Characters seen in the Marvel's Avengers: Age of Ultron film will also make their game debut throughout the weeks, including Ultron Prime, Hulkbuster, Vision and Black Widow. In addition, Marvel fans are in for a special treat as Marvel Contest of Champions will feature an exclusive movie clip from Marvel's Avengers: Age of Ultron, only available to view within the mobile game app.
"The Marvel Contest of Champions development team jumped at the opportunity to create new Ultron-themed content that fans, like ourselves, would be psyched to play," said Cuz Parry, Creative Director for Kabam's Vancouver Studio. "The game has been downloaded more than 31 million times, and we're humbled by the support. So we wanted to create something special for players that not only were inspired by the upcoming movie, but also rallied them together to take on one of Marvel Comics' greatest foes, Ultron!"
In the Marvel Contest of Champions Ultron update, Ultron has infected The Contest. Players will suit up with their mightiest Champions to help The Collector defeat Ultron and keep his psychotic hands off the coveted ISO-Sphere. Take on other Summoners' Champions and work together with your Alliance to complete objectives and receive rewards. Featuring brand-new quests with a unique and original Ultron story, players will need to defeat Ultron and his drones.
For more info, visit https://www.kabam.com/
Funatics Software announces the official launch of strategy MMOG UFO Online: Fight for Earth and the premiere on Steam.
by MissyS
Aeria Games announces new unnamed Unity Powered MMOFPS. The game will be set in modern times and feature realistic 3D graphics.
by Guest