Hearthstone's Winter Veil Arrives With Free Card Packs and In-Game Events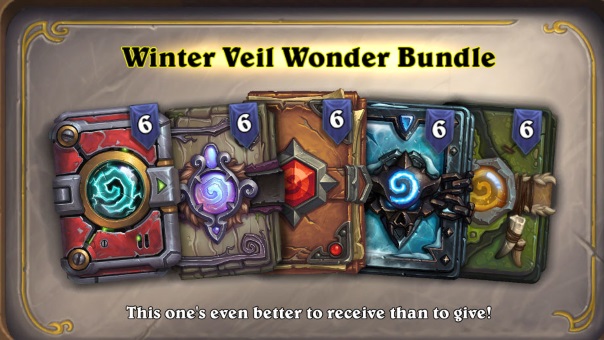 Winter Veil begins today in Hearthstone and lasts until December 31st, 2018. Players can play 100 cards to complete the "Happy Winter Veil!" quest and receive four "The Boomsday Project" card packs. There will also be festive Tavern Brawls for players to tackle over the next two weeks. The Winter Veil Wonder Bundle has also arrived and includes six packs from Journey to Un'Goro, Knights of the Frozen Throne, Kobolds & Catacombs, The Witchwood, and The Boomsday Project for 19.99 (a total of 30 packs0.
Week One Tavern Brawl: Returns & Exchanges:
This week's Tavern Brawl is full of gift giving and taking! Choose a hero, then build a deck of 20 minions (10 random spells from your class will be added automatically once the brawl begins). When the match begins, each player will mulligan for an opening hand, and then "gift" the rest of their decks to their opponent. But there's a catch! Each player only has 20 health, and each "gift" deck comes with a 5 mana Gift Receipt card. When Gift Receipt is played, it refreshes a player's mana crystals, swaps the decks again, and destroys their opponent's Gift Receipt! Reward: Winter Veil Treat Card Back
Week Two Tavern Brawl: Gift Exchange:
An old Winter Veil favorite returns! In the Gift Exchange Tavern Brawl, Greatfather Winter is dropping crates on the battlefield. Players smash open a gift crate—either their opponent's or their own—and they'll get to Discover a card from their Class or their opponent's depending on which side of the field the crate was on. Reward: If a player already received the Winter Veil Treat card back, this brawl awards a Classic card pack. 
Next Article
Nosgoth: New Crucible Map Available in V4.0 - Deceiver Evolved Skin Also Available
by Mikedot
The biggest and most far-reaching expansion of the game to date, Path of Exile: The Awakening takes the player on a dark journey.
by MissyS
Now it's time to read up on how the Dominion handles business with their own starting adventure: "Riot in the Void."
by Mikedot