Gather Your Friends to Conquer the Temporal Rift in Lineage 2: Revolution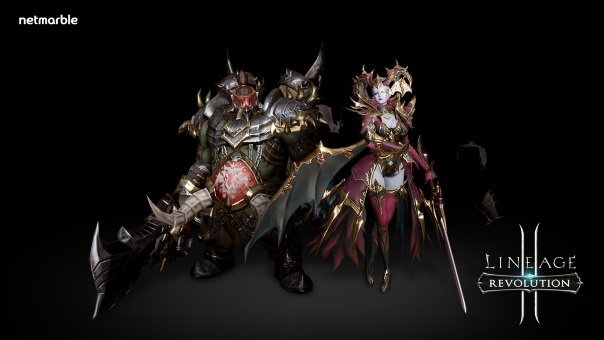 Parties of two to five players can now tackle the new content for Lineage 2: Revolution: The Temporal Rift dungeon. Tactical missions await while a series of story scenarios unfold, and teamwork will be of the utmost importance. Temporal Rift has two maps: Altar of Madness and Countess of Blood's Boudoir, and will be available alternately every day. With guaranteed rewards (Cloak Strengthening material/Monster Cores) for succeeding in the Temporal Rift, it will be a worthwhile endeavor. Players will also have the chance to receive one Cloak, one Maphr's Protection, Blessed Scrolls and more here. This update also brings UI enhancements for the Monster Summoning Stone Dungeon and other updated features to the game. Possibly one of the best updates, the inventory has been expanded to 500 Slots.
A new Clan Dungeon, the Cruma Core Room will also be available for clans to attempt and defeat a new Magical Monster Boss, the Cruma Core, for various rewards. With various attack pattern of the boss monster, the difficulty level of the Cruma Core Room is higher than other Clan Dungeons and recommends players to be equipped with Magical Monster-specialized Equipment to defeat the Cruma Core. This update also brings a new equipment class, "Red Rare Equipment", which deals extra damage to Magical Monsters and reduces damage taken from them on top of that. This is gear made specifically for PVE, and contrasts the Blue Rare Equipment, which is designed for PVP. Finally, a new Cloak item is now available for players to showcase their personality and allow them to receive additional effects and buffs. Cloaks are available when a player reaches level 75 and grant specific stats and effects depending on the type of Cloak. The Personal Cloak can be purchased in-game or by clearing the Temporal Rift, while the Clan Cloak can be acquired by registering into a clan or by creating one.
Three events begin today to celebrate t his update. The "Conquer the Temporal Rift" event lasts until April 11th. It allows players to easily acquire a Cloak and materials to level-up that cloak. The 7-Day Login Event will last until March 28th, which gives a variety of rewards for logging in for seven consecutive days. Players can receive up to 800 Red Diamonds and Rare Monster Summoning Stones for logging in seven days in a row. The Red Rare Equipment Draw Event, which lasts until April 4, will give players Blessed Scrolls used to strengthen their equipment every time they acquire a Red Rare Equipment.
"We're excited to open the gates to the Temporal Rift and give players a brand new way to strategize, play together and earn rewards in Lineage 2: Revolution," said Netmarble's Chief Glober Officer, Seungwon Lee, "We're always looking for new ways to encourage our players to cooperate together and look forward to seeing them work together to conquer the challenges ahead."
Heroes Charge publisher uCool has announced today that its new mobile MOBA game, Heroes Arena, is now available worldwide
by MissyS
Crafting is the most important feature in this game. That's right, not the open PVP.
by ApocaRUFF
NCSOFT and ArenaNet have announced the second new feature of the April 2014 Feature Pack: the Wardrobe, an account-wide system that allows you...
by Mikedot