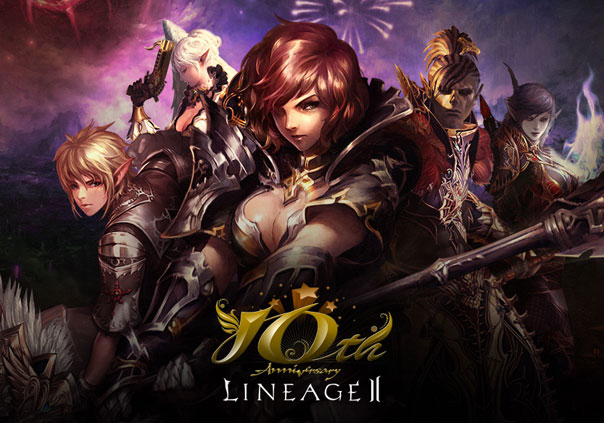 Lineage 2 is set 150 years prior to the events of the original Lineage and fans of the Korean MMORPG will find Lineage 2 to be a worthy successor. The game has a heavy emphasis on PvP and allows open PvP. The world is divided into three kingdoms; Aden, Elmore, and Gracia. Players can chose from six races during character creation, and will eventually be able to branch out into one of 36 classes. Each character can take on up to 3 sub classes which allows for an enormous amount of variation. Linage 2's plot is told through large 'Sagas' of which there are currently two: The Chaotic Chronicle, and The Chaotic Throne. Major content updates known as Chronicles are released every 6 months and add new quests, areas, skills, items, and increase the level cap.
Races & Classes:
Human – The most populous race. Humans control the most territory in Lineage 2. They have  the most specialized classes, along with balanced stats.
First Classes: Warrior, Human Knight, Rogue, Wizard, Cleric.
Second Classes: Warlord, Gladiator, Paladin, Dark Avenger, Treasure Hunter, Hawkeye, Sorcerer, Necromancer, Warlock, Bishop, Prophet
Third Classes: Dreadknight, Duelist, Phoenix Knight, Hell Knight, Adventurer, Sagittarius, Archmage, Soultaker, Arcana Lord, Cardinal, Hierophant
Elf – A slim and nimble race. Elves worship the goddess of water and love nature. They have fast attacks, movement speed, and casting time. They are great marksmen, and have high evasion.
First Classes: Elven Knight, Elven Scout, Elven Wizard, Elven Oracle
Second Classes: Temple Knight, Swordsinger, Plainswalker, Silver Ranger, Spellsinger, Elemental Summoner, Elven Elder
Third Classes: Eva's Templar, Sword Muse, Winder Rider, Moonlight Sentinel, Mystic Muse, Elemental Master, Eva's Saint
Dark Elf – Once part of the Elven tribes, Dark Elves were banished after learning black magic. They are similar to Elves but taller and have blue-gray skin. They worship Shilen, the goddess of Death.
First Classes: Palus Knight, Assassin, Dark Wizard, Shillien Oracle
Second Classes: Shillien Knight, Bladedancer, Abyss Walker, Phantom Ranger, Spellhowler, Phantom Summoner, Shillien Elder
Third Classes: Shillien Templar, Spectral Dancer, Ghost Hunter, Ghost Sentinel, Storm Screamer, Spectral Master, Shillien Saint
Orc – The most physically powerful race. Orcs are resistant to status ailments like poison and sickness. They also have high health, and recovery rates. Their strength comes at the cost of speed and evasion.
First Classes: Orc Raider, Monk, Orc Shaman
Second Classes: Destroyer, Tyrant, Overlord, Warcryer
Third Classes: Titan, Grand Khautari, Dominator, DoomCryer
Dwarf – A hardy race of craftsmen. Dwarves are an isolated race and are known for their physical strength.
First Classes: Scavanger, Artisan
Second Classes: Bounty Hunter, Warsmith
Third Classes: Fortune Seeker, Maestro
Kamael – A mysterious race that appeared under the guidance of the Gods. Kamael serve their ruler known as Mother Nornil and can absorb the souls of their enemies, and manipulate darkness. Their class choices are gender specific.
First Classes: Trooper (m), Warder (f)
Secon Classes: Berserker (m), Soul Breaker (m/f), Inspector (m/f), Arbalester (f)
Third Classes: Doombringer (m), Soul Hound (m/f), Judicator (m/f), Trickster (f)
Status: Released
Release Date: Oct 01, 2003
Business Model: Free to Play
Developer: NCsoft / EU: Innova
Publisher: NCsoft / EU: Innova
Category:

Stand-alone

Genre(s):

3D, MMO, RPG, Fantasy

Platforms:

PC


Editor's Score: 2/5

Pros:

+36 classes.
+Characters can add up to 3 subclasses.
+Equip and command pets.

Cons:

-Limited appearance customization options.
-Grind based gameplay.
-Many reports of heavy botting in the community.



Recommended System Requirements:

OS: Windows Vista 32bit / Windows 7 32bit / Windows 8 32bit
CPU: Intel® Core™2 Duo 6300 equivalent or above
RAM: 4 GB or more RAM
GPU: NVIDIA® GeForce® 7600 GT or ATI/AMD Radeon™ X1800 512MB equivalent or higher
HDD: 60 GB or higher free space



Description: Lineage 2 is a 3D fantasy MMORPG. Lineage 2 offers a variety of races and classes, and even allows players to take on 3 subclasses. A large game world to explore, open PvP, and constant updates have made Lineage 2 one of the most popular MMORPGs in the world.
PlanetSide 2 OMFGPhase 1 of Operation: Make Faster Game (OMFG) is a go! Today, Sony Online Entertainment (SOE) released PlanetSide 2's fi...
by MissyS
We sat down with ArenaNet's Associate Game Director, Steve Waller, and Design Director, Chris Whiteside, at E3 last week to talk GW2.
by Zelus
WEBZEN announced today the release of its latest update, Season 14: Part 2 for its classic MMORPG MU Online.
by MissyS