Final Fantasy XIV's 4.25 Reveals The Forbidden Land of Eureka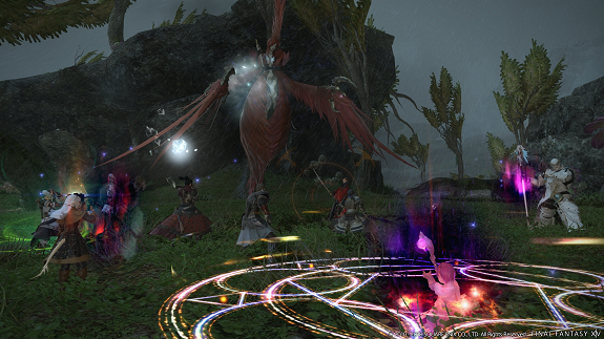 Coming on March 13th, Final Fantasy XIV releases Patch 4.25, and with it, The Forbidden Land of Eureka. This region will feature new battle elements to challenge players which will be crucial to obtain powerful new weapons. Eureka is an unexplored, expansive land that brings a variety of changes with it.This update will also bring back the adventures of everyone's favorite inspector, Hildibrand! In addition to this, Little Ladies' Day begins today and will last until March 14th. The Songbirds are back in Eorzea for another performance and players can participate with three new emotes earned through the questline.
Field Area-Style Gameplay: Up to 144 players may occupy a single instance. Players are encouraged to group up with fellow adventurers to hunt notorious monsters and work towards common goals.
Player Progression: Players will gain elemental EXP to strengthen their ability to harness the elements, and may also use the new Magia Board feature to customize their elemental affinities to aid them in exploring Eureka.
Altered Battle Mechanics: Additional strategy is required in battle through an element system, in which players must utilize the Magia Board to change the element affinity of their attack to oppose their enemy's. Players will customize their Magia Board's elemental attributes prior to exploration using a Magia Melder, and must carefully consider their setup depending on the goal of the adventure.
Rewards: Players will occasionally earn protean crystals through exploration of Eureka, and may use them to enhance Eureka weapons and gear with the aid of the famed blacksmith, Gerolt.
Next Article
Creaky Corpse, developer of Dead Frontier, today unveils Doom Warrior - an arena-based combat MMO.
by MissyS
Variety is the spice of life. Life would be pretty dull if everyone were the same. This also rings true for MMORPGs. Most of them use class sy
by Guest
I got a chance to chat with the head of Soulbound Studios to learn more about Chronicles of Elyria.
by Mikedot