Eden Rising Will Feature Free-To-Play Option at Launch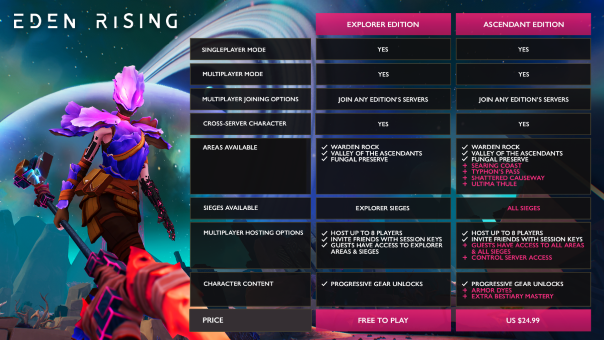 Nvizzio Creations announced today that their upcoming title Eden Rising will also offer a free-to-play option at launch. This blend of Tower Defense and Open World will offer a fresh multiplayer experience, and the F2P option will let players join the servers of paid players to experience high-level content, and gain high-level loot. The full launch will arrive on the first-year anniversary of entering Early Access, and in the above image, players can see the differences in the Free-to-Play edition (Explorer Edition) and the Paid Purchase Edition (Ascendant Edition).  Nvizzio also confirmed the Explorer Edition will contain no microtransactions in the game. The Ascendant Edition will unlock an additional four zones, all siege and armor dyes, as well as increased server benefits.
Players opting for either game option will be able to delve into the stylistic and genre-blending world of Eden Rising with both versions offering a complete experience for players. With a minimum of three expansive areas to explore, Eden Rising will challenge players to gather resources to craft armor and defenses, while navigating the environmentally lush and dynamic world full of exotic creatures in order to defend their bases. Both versions are fully compatible with each other, and players can join up with their friends no matter what version of the game they acquire. Explorer Edition users can also gain access to Ascendant Edition features, if they join a server with an Ascendant Server Owner.  Eden Rising will hit Steam on May 17th, 2019.
Next Article
Chrono Tales has begun its open beta, introducing its first Server named "Chroland" and launching with various events for all player...
by MissyS
Christmas has come early in the land of Ymir. Dragon will receive a major update this December 18th. This update makes training and upgrading ...
by Mikedot
R2Games and 337.com has just announced the addition of new features in an upcoming update for their mobile Action MMORPG - Excalibur: Knights ...
by Mikedot