Dissidia Final Fantasy Opera Omnia Begins Fall Promotions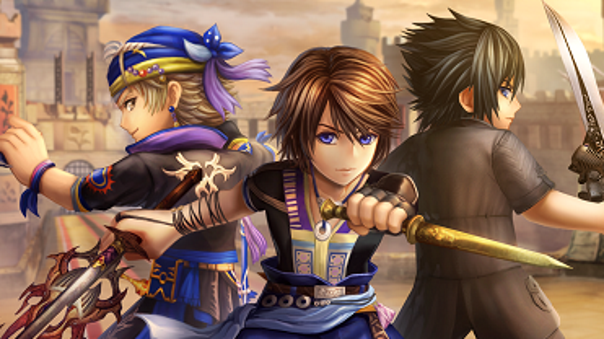 The arrival of Autumn is being celebrated by Dissidia Final Fantasy Opera Omnia, with plenty of new content. A Fall Festival has begun, going on now through November 7th, 2019. In it, players can participate in Trick-or-Treat co-op quests for Artifact Tokens. These are used to upgrade your characters. Players can also use Dissidia Points during this time to obtain limited-time animated Halloween stickers for use in co-op.
Locke, originally from FINAL FANTASY VI, will return through a limited-time character event, available now through October 28. Players who missed out on Locke's previous limited-time event can add him to their rosters, and all players can obtain gems and other valuable character upgrade materials by playing through his event quests and completing limited-time missions. New story quests are also coming in this event, where players can add Noel, from Final Fantasy XIII-2 to their team, by playing through a new story chapter, "Will of the Hunters". Additional events can be found below.
Autumn Festival Events:
Free Multi-Draws: The first Multi-Draw from the Story Draw banner (available now through October 28) and the first Multi-Draw from the Event banner (available October 14 through 28) will be free to all players.
EX Token Exchange: Players can earn tokens by clearing special Event Missions added daily through October 19. Those who earn all 10 tokens can exchange them for one EX weapon of their choice from a limited selection featuring popular characters like Cloud, Squall, Noctis and several others.
Start-Dash Draw: The first Multi-Draw from this special banner, which features 5-star weapons for Cloud, Lightning, and Squall, will be free for all players. New players who start after November 7 can perform their free Multi-Draw within 7 days of completing the beginner mission "Equip an ally with a weapon."
Daily Missions: During the campaign period, players can earn additional rewards including shards, crystals, clusters, and high shards by completing daily missions. All Cycle Quests will also feature double rewards, and the World of Illusions: Carbuncle's Treasures will be open for players to earn additional rewards.
Mog's Gym: This beginner-friendly feature has been extended to help new players. Players can learn the game's basics in Mog's Gym quests, which yield Training Medals upon completion that may be exchanged for chocobo™ tail feathers, higher power orbs, higher guard orbs, shards, crystals, clusters, and high shards.
Appirits, the Japanese game developer and publisher recently has marked 6-month running of their English browser-based card & simulation g...
by Mikedot
QC Games announced today that the first Breach Invitational will take place on Twitch, Mixer, and Facebook on March 2.
by Ragachak
The executive producer for Neverwinter by ARC Games has recently announced that the expansion for Elemental Evil will be moved to April 7th 20...
by Mikedot