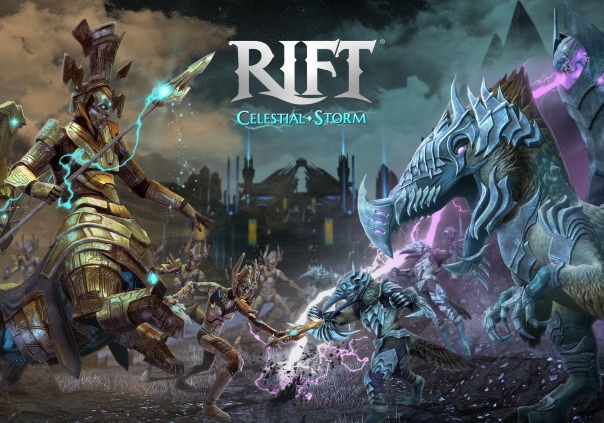 The forces of the Death God Regulos are pouring into the world of Telara, and rifts between the other dimensions including Earth, Water, Fire, Air, and Life have also grown. It falls on the players, who assume the role of resurrected veterans called The Ascended, to save the world from these inter-dimensional evils.
Features
►RIFT has an ever changing landscape which ensures players will have different experiences even while traversing the same terrain. The game also has two rival factions and a ton of playable classes. There are 4 callings and 36 different souls (9 for each calling). Players get to build their class from these souls, so there are hundreds of ways to specialize your character for combat.
Factions & Races:
The Guardians – Dwarves, High Elves, Mathosian
The Defiant – Bahmi, Eth, Kelari
Classes:
Warrior – Champion, Reaver, Paladin, Warlord, Paragon, Void Knight, Riftblade, Beastmaster, Vindicator, Tempest
Cleric – Purifier, Inquisitor, Sentinel, Justicar, Shaman, Druid, Warden, Cabalist, Templar, Defiler
Rogue – Nightblade, Ranger, Blade Dancer, Assassin, Riftstalker, Bard, Marksman, Saboteur, Infiltrator, Tactician
Mage – Elementalist, Warlock, Pyromancer, Stormcaller, Archon, Chloromancer, Necromancer, Dominator, Archmage, Harbinger
Expansions
RIFT is currently on version 4.5, and continues to be developed after its purchase by Gamigo. For full patch and update history please see the game's forum here.
Microtransactions
Large amounts of content paywalled behind premium subscriptions, including classes and dungeons. Players may purchase inventory space, mounts, cosmetics, loyalty, and pretty much anything else they could want on the game's store.

Status: Released
Release Date: Mar 01, 2011
Business Model: Free to Play
Developer: Trion Worlds
Publisher: Gamigo
Category:

Stand-alone

Genre(s):

3D, MMO, RPG, Fantasy

Platforms:

PC, Steam


Editor's Score: 4/5

Pros:

+Extensive class customization.
+Rifts create dynamic gameplay.
+Easy pick up and play party options.
Cons:
-Some class balance issues.
-Limited races for character creation.
-Quest system is overwhelming and unrewarding.
-Souls locked behind paywall.
Recommended System Requirements:
OS: WindowsXP, Vista, 7
CPU: Intel® Core 2 Duo® 2.2 GHz or better
RAM: 4 GB
GPU: Nvidia® GTS 250
HDD: 15.0 GB
Description: RIFT is a complete and full-featured MMO experience. Adventure in the world of Telara as either a noble Guardian or technomagical Defiant and enter a dynamic fantasy where primal forces battle for control and the landscape is ever-changing.
Terris reviews Diaspora: Mass Exodus, a revived space trading MMO available on Steam.
by NWOrpheus
The September update adds 30 new single player stages, 6 new heroes, 4 new skins, a new Goddess, and a limited time harvest festival.
by MissyS
It seems that Lightmare Studios kept the game's development tight over those twelve months, providing a noticeably more polished, balanced, ...
by DizzyPW