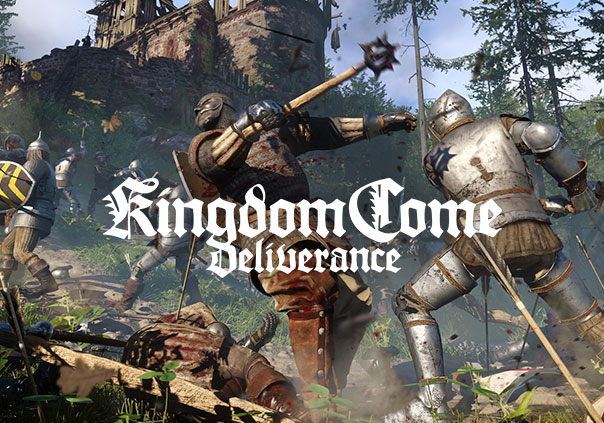 Kingdom Come: Deliverance
Kingdom Come: Deliverance is an open world RPG set in Bohemia, 1403 A.D., developed by Warhorse Studios for PC/Steam, PS4, and XBox One, on the CryEngine.
Story
Wenceslas's enraged half-brother Sigismund imprisons Wenceslas and invades the country with his mighty army. Unfortunately, in the midst of this chaos, your character Henry suffers. The mercenary army destroys your home and kills your family, you are the sole survivor of the bloodbath and it is here that your road to redemption starts. Enjoy the detailed reconstruction of the 15th century landscape. Use weapons that were used by knights. Take part in epic historical battles that happened in Middle Europe and in castle sieges!
Features
►Kingdom Come: Deliverance takes pride in its historical accuracy and realism. Utilize weapons wielded by real knights and immerse yourself in the recreated 15th century landscape of Bohemia.
►There's no "right way" to overcome obstacles. Will you attempt to use guile and charisma, or cold steel? Each situation may call for a different method of resolution.
►NPCs are more than just mannequins. They'll report crimes and respond to your reputation. Will they fear you as a tyrant, or laud you as a hero? That depends on your actions and choices.
Expansions
Treasures of the Past: Contains treasure maps of the lords banished by King Sigismund, and the mythical armor of the Warhorse tribe.
From the Ashes: Build a village from the ground up! Become a bailiff. No, not like Night Court: you decide what buildings to erect and settle disputes between villagers.
The Amorous Adventures of Bold Sir Hans Capon: As Sir Hans Capon's wingman, Henry must help him woo his latest flame. Includes 3 quests revolving around doing just that.
Band of Brothers: Guide a mercenary band along the roads of Rattay in an effort to clean up the banditry in the region.
Microtransactions
Yes – DLCs (see expansions)
Status: Released
Release Date: Feb 18, 2018
Business Model: Retail
Developer: Warhorse Studios
Publisher: Deep Silver
Category:

Stand-alone

Genre(s):

3D, RPG, Fantasy

Platforms:

PC, Steam, Xbox One, PS4


Pros:

+ Beautiful Graphics
+ Historical Realism

Cons:

- Complaints of bugs
- Complaints of inconsistencies in questing styles.



Recommended System Requirements:

OS: Windows 7,8,10 64-Bit
CPU: Intel CPU Core i7 3770 3.4GHz
RAM: 16 GB RAM
GPU: NVIDIA GPU GeForce GTX 1060 or better
HDD: 40 GB



Description: Kingdom Come: Deliverance is an open world RPG set in Bohemia, 1403, developed by Warhorse Studios on the CryEngine.
NEXON freshens up Mabinogi Duel with its latest Generation 3 update, Home of Magicians JERHNA.
by MissyS
The next content update for The Lord of the Rings Online (LOTRO) – Update 11: Treachery of the White Hand – is launching May 13. Update 11...
by MissyS